Indian classical musical instruments are losing their charm as electronics take over music production.
Over the bustle and the noise of the busy OTC road, the soothing sound of the tabla makes you stop in your tracks.
When you walk closer to the sound, you see a small shop with a Mridangam kept outside and just enough space to accommodate one person. Unlike the fancy music stores with glass windows and aesthetic interiors, the shop only has place for percussion instruments.
You can spot a middle-aged man named Srinivasa, playing a Mridangam or Tabla in the 60-year-old tabla store Shantha TablaWorks.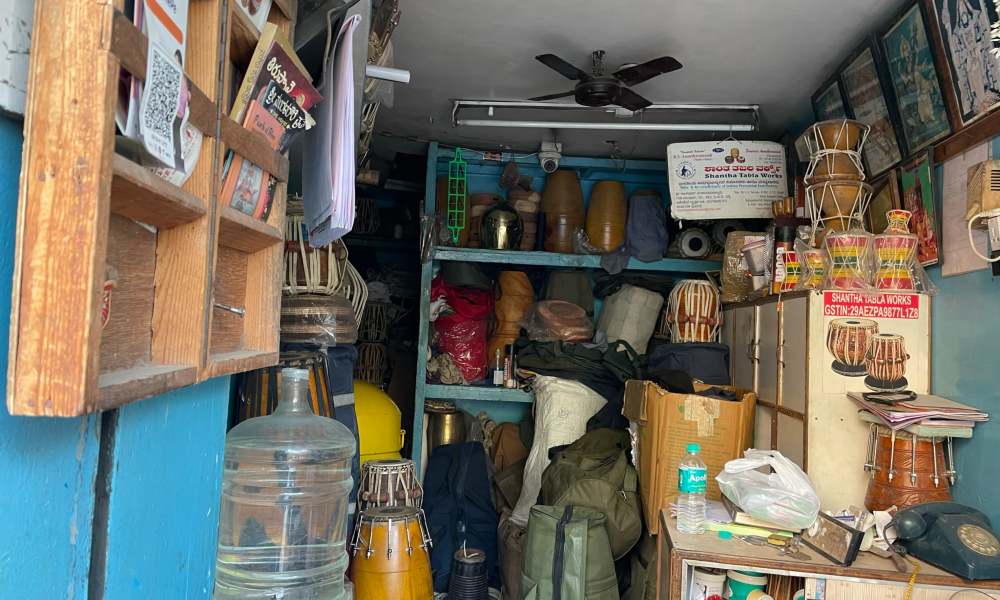 "Initially there were a lot of artisans who would be involved in making Tablaand Mridangam, but now all of them have left the job," he said.
"A lot of artisans are not ready to do the work, as it takes a lot of time to work on the Syahi (the black spot on the top of Tabla)," he said. The Syahi is made from goat skin and to achieve the required tone of the Tabla it requires a continuous polish for three to four hours, he explained.
Giri, a fourth generation Veena maker, said the sales of Indian musical instruments are less than those of western musical instruments. "Only four members of my family are involved in Veena making and the number of Veena buyers is only 300 – 400 in a year."
"The younger generation is moving towards western musical instruments as they find it more interesting," he added.
Srinivasa said that "With Indian classical music, a person has to spend hours to complete one raga and it requires a lot of practice. Whereas with western music or Bollywood music, it is just a matter of five minutes and that attracts the youth now."Mridangam is not used a lot now; it is just Tabla which is used in both Hindustani as well as Carnatic music he added.
Ashwini, manager at Magadi Musicals in Banashankari, said the family has been manufacturing Veena and Tambura since 1928. "Tambura has come to near extinction as people hardly buy it," she said.
Giri said, "No one buys Tambura because it is not easy to carry. People would rather use electronic instruments as it is easy to carry and learn."
Sitar and Tambura are made from Jackfruit wood and take approximately 15 days to be made, depending on the weather, Giri explained.
Sayantan, a music enthusiast, said it is difficult to carry Indian musical instruments becausethey are heavy. Instruments like Sitar, Dotara, Mringandam, and Tabla are made of wood, which adds to the weight of the instrument. Whereas, western instruments like guitar, electric guitar, ukulele are light weight and easily portable and can be used whenever needed, unlike Indian music instruments, he added.
He said that he plans on buying a Dotara, but he is unable to do so because it is expensive and difficult to carry.
"The options in western music are more and with software for changing the pitch of the instrument or the voice, and Rhythm Pad. Rhythm Pad has a lot of instruments in it, so there is no need for people to buy instruments," Srinivasa explained.
There is no need to put much effort by playing instruments, the music producer just has to use their brain to find the rhythm for the song, he added.
Nikhar Juneja, a music producer said, "We have sounds from Indian classical instruments available as Virtual Studio Technology (VST) libraries, but they sound nowhere near to the actual instrument."
"People generally prefer Rattle or Shruti Box kind of instruments and mobile phones, rather than the sound from an actual Tambura," Ashwini said.
However, Juneja said, "I have found is that there are much more usable VST libraries for western instruments than Indian classical instruments."