Freedom Park's multilevel car parking project continues to push its deadlines, way past its completion date.
It's either protesters, COVID-19 or rocky terrain under the ground, behind the delay for the Freedom Park parking project that was to be completed in 2017. Protestors continue to precariously park their vehicles on footpaths as the parking site is laden with brick and mortar, seven years later.
"The policemen helped me park my two-wheeler on the footpath," said Afshan, an anganwadi worker, who had come to join the anganwadi workers protest in Freedom Park. "They parked it on the footpath and told me to be cautious about my moped, because of the thefts that happen during protests."
Devang Patel, another protestor said, "I will heave a sigh of relief the day this parking is inaugurated for real because our vehicle safety will be assured which isn't the case right now."
S.K Suresh, a traffic police officer said that it is a gigantic task during protests to manage the parking due to limited space. "This is a high profile area with the Vidhana Soudha nearby and has to be maintained free of any commotion," he said. Suresh added that the park can accommodate 700 people, but the protestor turnout sometimes is in thousands thereby forcing protestors to use the muddy parking area to sit for protests. "This contracts the parking space even more leading to congestion," he added.
"I took an auto to join a protest and left my two-wheeler home," said Bhavna, a student. "It felt like a smart move because of unending parking woes at Freedom Park."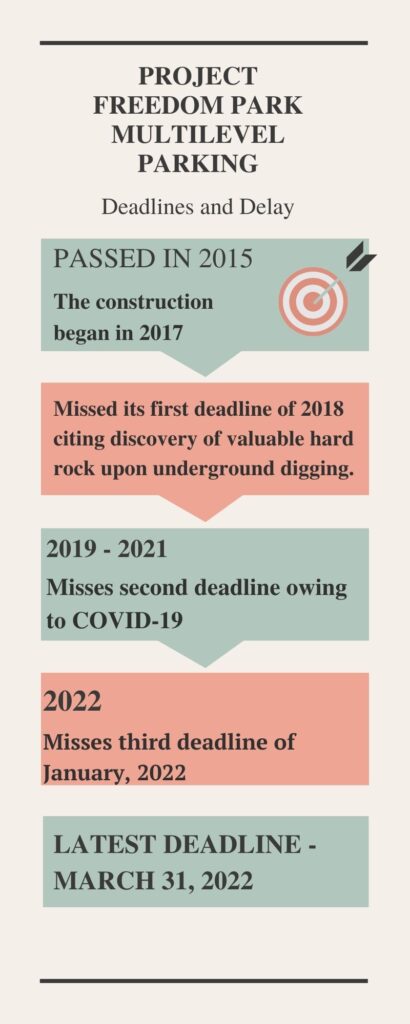 The first deadline was pushed to 2018 due to the discovery of precious white granite during the first phase of construction of the parking lot. The granite was found to be valuable in nature so Bruhat Bengaluru Mahanagara Palike (BBMP) extended the deadline, in order to sell it a report suggests.
Masood, a construction worker at the Freedom Park Parking Project, said that he was roped in for this project only a couple of months ago. "We do plastering and cement work and I feel it will take another two to three months for my work to be completed," he said.
"We weren't given any deadline for the completion of the project," said Jamal, another construction worker at the site. "We get all the instructions from our contractors and nothing has been said about the deadline so far," he added.
Lokesh, chief engineer, BBMP, said that the parking will be ready by the end of March. "Average time required for construction of a single basement parking is a minimum of six months," said Rahul Sokhal, Civil engineer. "But the type of soil underneath and the ground water table along with other significant factors play a majorrole in estimation of a construction period."