Disabled choose private institutions/NGOs as the government suspends employment training programmes and shuts special employment exchanges.
Disabled people are not getting jobs from the employment training program provided by the Department for the Empowerment of Differently abled and Senior Citizens (DWDSC). It has been suspended since 2018. The last training session provided to the disabled was in 2017-18. The special employment exchanges, where the disabled register their names seeking jobs are also inoperative.
"We stopped receiving funds from the government for this training after2018. Government is more focused on providing better social security and healthcare to disabled than employment right now," said V.N. Muniraja, director of DWDSC. He said the government has always promoted self-employment among the disabled and the training was just to equip them with better skills for securing jobs in the private sector.
DWDSC used to provide a free hostel facility for disabled men and women who registered for the employment training program. The hostels are still running with a monthly charge of Rs. 2500. The people living in these hostels no longer take training from DWDSC but from other private institutions or NGOs.
Krishnamma, a teacher for Jyoti Seva Blind School, said that she got her training from National Association for the Blind (NAB). "It is because of them that I got a job. For them, it simply doesn't end with training. They help you secure a job. That is the difference," said Krishnamma. She also said the hostel is dingy, but works for her because it is closer to her workplace and her brothers trusted a government hostel more than a hostel run by an NGO.
Meenakshi, who works as a packer at Techsport, managed to get a bed in the government working women's hostel for the disabled in Kengeri. "I want the government to expand the quota for disabled people in clerical jobs," she said. She added that she has no idea as to why the government suddenly put a halt to this program. "I went to Enable India for my three-month computer training and they provided it for free," she added. "The quality matters too! You will find a stark difference between the quality of what the government provides and what the NGOs provide—the NGOs are much better," she added.
Government hostels provide lodging at a charge, while NGOs like Samarthan provide free training and shelter to them. "We have special programmes to identify disabled and provide them with training that enhances their skills. Everything is provided for free," said Sachin, project engineer, Samarthan NGO. He also mentioned that private companies come over for placements to hire disabled employees from our NGO. "We provide free shelter and training to about 50 people at our HSR Layout-based shelter," he added.
Veerbhadra, placement officer at Samarthan NGO, said that companies like Flipkart, Amazon, and BigBasket hire from them. He mentioned that Flipkart has set up an eKart delivery hub in HSR Layout, Bengaluru that is exclusively run by persons with disabilities (PWDs). They call these employees Wishmasters and they have hired one wishmaster from our NGO, he said. "Apart from retail, our trainees also get placed in consultancy firms," said Veerbhadra.
An official from Amazon said, "At Amazon we try to bring in more inclusivity for differently abled. We have disabled employees working in departments like e-commerce, customer support and delivery stations."
"Government is not satisfied with a lot of NGOs and their performances. It feels that NGOs like Enable India are underperforming with regards to placements of disabled persons," said, V.N. Muniraja, director of DWDSC. Whereas Enable India has impacted 2,20,000 people with disabilities and has provided for employment to 70-80 percent of persons of disabilities enrolled with them for training.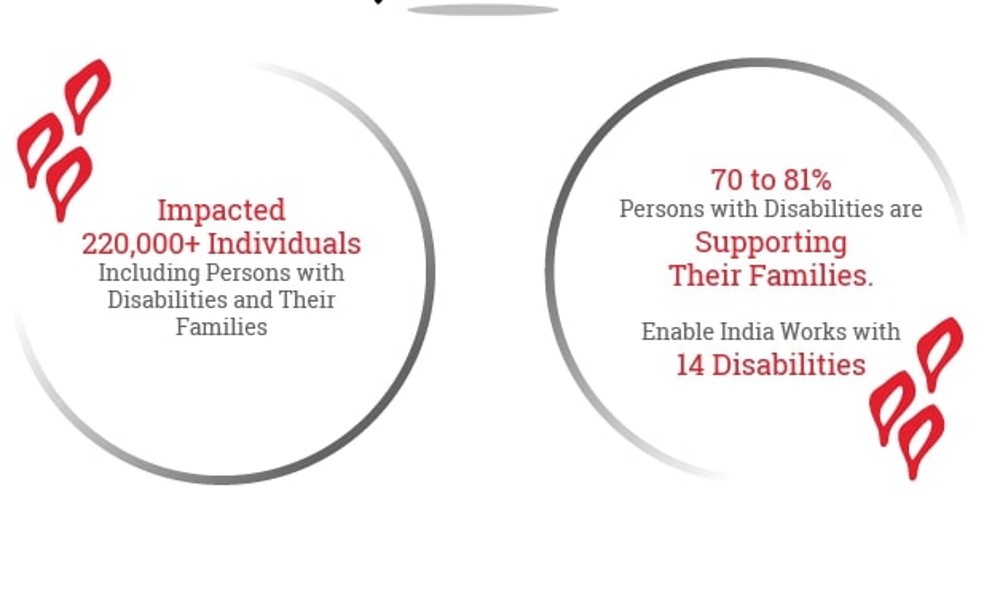 Jasjeet Kaur, an activist who works for PWDs, said the government shrugs off the responsibility and the entire onus is on private institutions and NGOs. "Any country's progress is measured by the quality of life it provides to disabled and the poor. We need to have more inclusivity from the government regarding PWD employment," she said.