Attendants are forced to sleep on the streets whilst their patients get treatment.
Government hospitals fail to provide basic amenities to the attendants accompanying patients. Most attendants, usually family, live in deplorable conditions till the treatment is completed, which sometimes takes months.
Most government hospitals follow the one-attendant-per-patient rule according to which only one member of the family is allowed to stay inside the ward. The attendants who stay with their patients sleep on the floor and use the patient bathroom.
Lady Bowring and Curzon hospital in Bengaluru has 14 beds per ward that have one bathroom attached. One bathroom is used by 28 people including 14 attendants for 14 patients.
Nagappa, who was brought in to Lady Bowring and Curzon hospital 45 days for liver and related problems ago has his wife and daughter taking care of him in turns. His daughter Priyanka said that she and her mother go to pay and use the toilet every morning. "We have been sleeping on the floor for the past 45 days. Despite being BPL cardholders, our meals have already cost us more than Rs. 6000."
Mahabubu Pasha, another attendant and a BPL cardholder, said he along with his daughter and wife had come from Mysore to Victoria Hospital in Bengaluru for his grandson's pediatric surgery. "It has been 11 days already and I am still sleeping on the footpath. I take a 10-minute walk to Kalasipalyam every morning to take a bath for Rs. 50." He said they eat from the hospital canteen that costs them Rs. 280 per meal. "I always ask my wife to sleep near the entry door of the hospital because I feel it is safe there than on this footpath."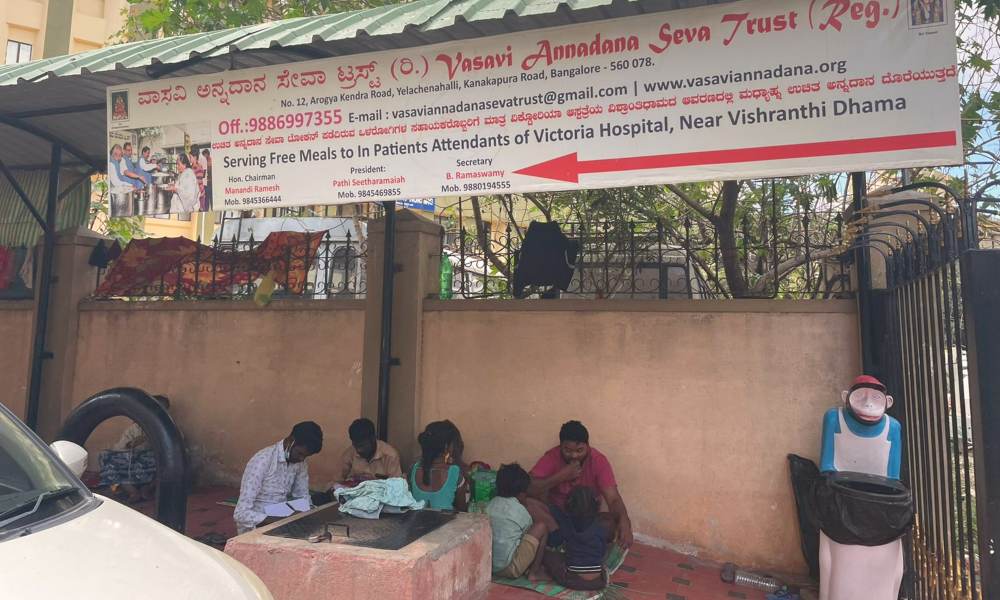 Munni, who is taking care of her husband admitted to Lady Bowring and Curzon hospital, said that sleeping on the floor isn't that big of a problem for her but managing three meals a day is. "Every morning I am more worried about how I am going to pay for my food than anything else. I can't afford it."
A police official appointed outside the male orthopedic ward of Lady Bowring and Curzon hospital said he guards two criminals admitted in the ward from 8 a.m. to 8 p.m. "We use pay-and-use toilets outside the hospital on the opposite street. I have seen a lot of these attendants go and use those bathrooms that generally have long queues outside," he said.
In an initiative to provide basic amenities like lodging and bathrooms for the attendants of the patients, Vishranthi Dhama was built in Victoria Hospital. This facility has a charge of Rs 93 per person excluding food. However, people wait for days to get a room in Vishranthi Dhama due to long queues and limited rooms. Naseema Bano, who came to Victoria Hospital for her mother's treatment said that she and her husband slept on the footpath outside Vishranthi Dhama for two days before finally getting a room.
Dr. Amaresh, Orthopaedic department, Lady Bowring, and Curzon hospital said that they try to accommodate attendants if the ward has empty beds. "Due to Covid-19, we only let one attendant inside the ward but they sleep on the floor," he added.
Dr. Sabarathinam.R. Subramaniyam, surgeon, said that the attendants must at least have chairs outside the wards to sit. "Big government hospitals have sarais and shelters but they have a charge for the rooms provided there. That charge must be canceled and they must be provided free shelter," he said. "There is no point in paid shelters when people can't afford it. You will see people sleeping right outside these shelters," he added.