India has witnessed a 50 percent growth in the subscription of of audiobooks and ebooks.
The pandemic has impacted traditional reading patterns of people, leading them to switch from physical books to reading online and listening to audiobooks.
"After long working hours, I prefer listening to a book and unwinding rather than reading as my eyes are drained from looking at the screen all day," said Karandeep Singh Khanuja. He added that listening helps in finishing a book faster and is more convenient and easier to access.
Prakash Gangaram, owner of Gangaram Book Bureau, said the new generation is more inclined to use smartphones and new technology and prefer listening to books while commuting. The sales of his store experienced a major hit due to the same. However, he added that the older generation still likes the essence of physical books and prefers that more.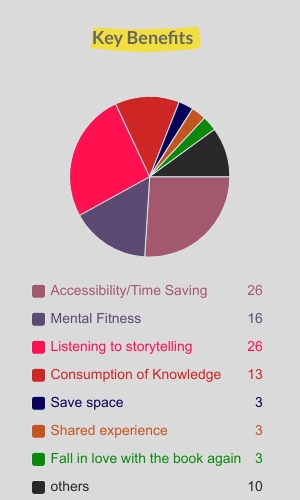 According to The New Publishing Standard (TNPS) report, India's consumption of audiobooks and e-books has escalated by 50 percent in the pandemic. India has witnessed a rise in consumption of audio across all platforms and not just books; currently, there are approximately 150 million daily listeners in the country. The TNPS report shows that India is the third fastest-growing market for audiobooks in the world after the U.S. and China.
Inayath Khan, a sales representative at the Himalaya Publishing House, said that since the start of the pandemic, they have only published educational and reference books. He added that more people switched to online platforms as they were easy to access.
A recent report, indicated the global audiobook market is expected to rise to $20 billion in the next 10 years. The data showed that the subscriber base for Storytel went up by 33 percent and sales by 19 percent since 2019. Audible—an audiobook app—witnessed an increase of 32.1 percent in revenue said the Association of American's Publishers (AAP). Various other Indian apps like Kuku FM and Pratilipi FM have also gained popularity. Pratilipi FM recorded over 1 lakh downloads on Google Playstore within nine months of its launch in December 2019.
Rajesh Naidu, a relationship manager at the Himalaya Publishing House said that people crave visual mediums these days—they are usually drawn to consuming audio-visual platforms rather than reading books. He added it is very likely that more variations in the future will make the entire experience more visually engaging.
"While reading, we use our visual sensory motors and the imaginary visuals we create in our mind can be easily lost if we lose focus," said Sampoorna Nag, a psychology student. She said that while listening to an audiobook people can imagine better as sounds make it easier to visualize. "It is easy to multitask while listening to an audio book as it becomes conversational, even subconsciously one starts doing other things while still focusing on the story," Nag added.