Exciting returns, leisure time, bullish market, advent of digital platforms and IPOs have led to more Indians opening accounts over the past year.
India has seen a remarkable rise in the number of active DEMAT accounts in the last one year. Statistics released by depositories show that the number of DEMAT accounts has increased by 48 percent.
The number of accounts has increased from 45.3 million in August 2020 to 67 million in August 2021, periodic statistics released by National Securities Depository Limited (NSDL) and Central Depository Services (India) Limited (CDSL) indicate. More than 99 percent of this increase of 21.7 million DEMAT accounts comes from Indian resident individuals as per the statistics.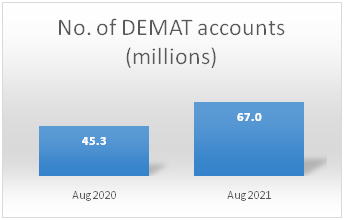 Principal reasons for Indians entering the stock market are exciting returns, bullish market, excessive free time, and the advent of digital platforms. Chartered Financial Analyst (CFA) and owner of a broking and advisory entity Stockplus, Bipin Savla said, "The primary reasons for such a trend are the fact that people were idle and hence, had no significant activity to do. So the people were attracted to stock market. Also, it generates good earnings for traders as well as investors." He added, "People started it during lockdown, but it has continued even after lockdown due to continuity of attractive returns."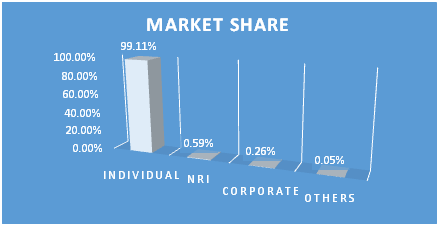 Besides the number of DEMAT accounts, the turnover of transactions has also increased. Based on data released by BSE (formerly known as Bombay Stock Exchange), the turnover of equity transactions has increased by 80 percent from Rs. 6,71,338 crores in July 2020 to Rs. 12,06,669 crores in July 2021 on the stock exchange. The trade volume increased by almost Rs. 9,000 crores in the quarter ended September 2021 when compared with quarter ended June 2021.
Darshil Shah, an equity specialist at HDFC Securities said, "There are a few reasons leading to increased DEMAT account openings in my opinion. The financial literacy among the general public of India and especially among the millennials has been increasing, which has led to an increase in the savings habit amongst the people and hence we see more and more people opening DEMAT and investing especially through Systematic Investment Plan (SIPs)."
Internet connectivity has also played a major role in such trend. Savla explained, "Tier I cities always had people actively investing or trading in stocks. But what my clientele tell me is that the internet connectivity has become better even in smaller cities. Hence, the stock market fever penetrated into Tier II and Tier III cities as well."
Sharda Karani, who entered the market during the pandemic said that it is easy to earn profits from the stock market and the returns are always better than interest rate on Fixed Deposits (FDs). That propelled me to open a DEMAT account and start investing.
The bullish run of IPOs in the Indian market has also contributed to the interest in the stock market. Including listings on Small and Medium Enterprise (SME) Segment, 69 companies have listed on National Stock Exchange (NSE) and 62 companies have listed on BSE till October 12, 2021. Sunil Madnani, a Chartered Accountant student who started investing in June 2020 said, "One of the prime reasons to enter the stock market and to open a DEMAT account was the profits you can earn from IPOs."
The advent of digital first (a theory that publishers should release content into new media channels in preference to old media) and multiple broking organizations that provide online platform for opening a DEMAT account such as Zerodha, Upstox, Grow, Angel and others have resulted in an increase in DEMAT account owners. Savla said, "These online platforms provide ease of access for prospective investors and it makes investing or trading easier for them."
However, there is a downside as well to the use of such digital platforms. Vijay, a sub-broker with Angel Broking said, "The customer relations at such digital platforms is centralized. The number of accounts has increased, but it gets difficult for customers to resolve problems due to such centralization."
SENSEX crossed the 60,000 points mark for the first time on September 24. And NIFTY crossed 18,000 points for the first time on October 11. Shah thinks that the trend is here to stay. He said, "the trend of increasing investments in equity instruments, which is currently one of the most attractive asset class in terms of returns, would continue in the near future. And more and more people becoming financially literate and with increased employment, it will lead to increased savings."