Centre has sent more vials for the treatment of fungal treatment.
An additional 19,420 vials of Amphotericin-B have been allocated to all states/UTs and Central Institutions on May 24, 2021, according to a press release. Union Minister for Chemicals and Fertilizers, Shri D.V Sadananda Gowda in the press release said that Maharashtra, Andhra Pradesh and Gujarat will be receiving most of the vials.
Besides this, 23,680 vials of Amphotericin-B were allocated across the country on May 21. Cases of black fungus are increasing across various states in India. Around 5, 424 cases of black fungus were reported in 18 states as of May 24, 2021. Dr. Harsh Vardhan, Minister of State for Health and Family Welfare tweeted on Monday that over nine lakh vials of Amphotericin-B are being imported to ensure the drug's adequate supply for treating mucormycosis patients in the country.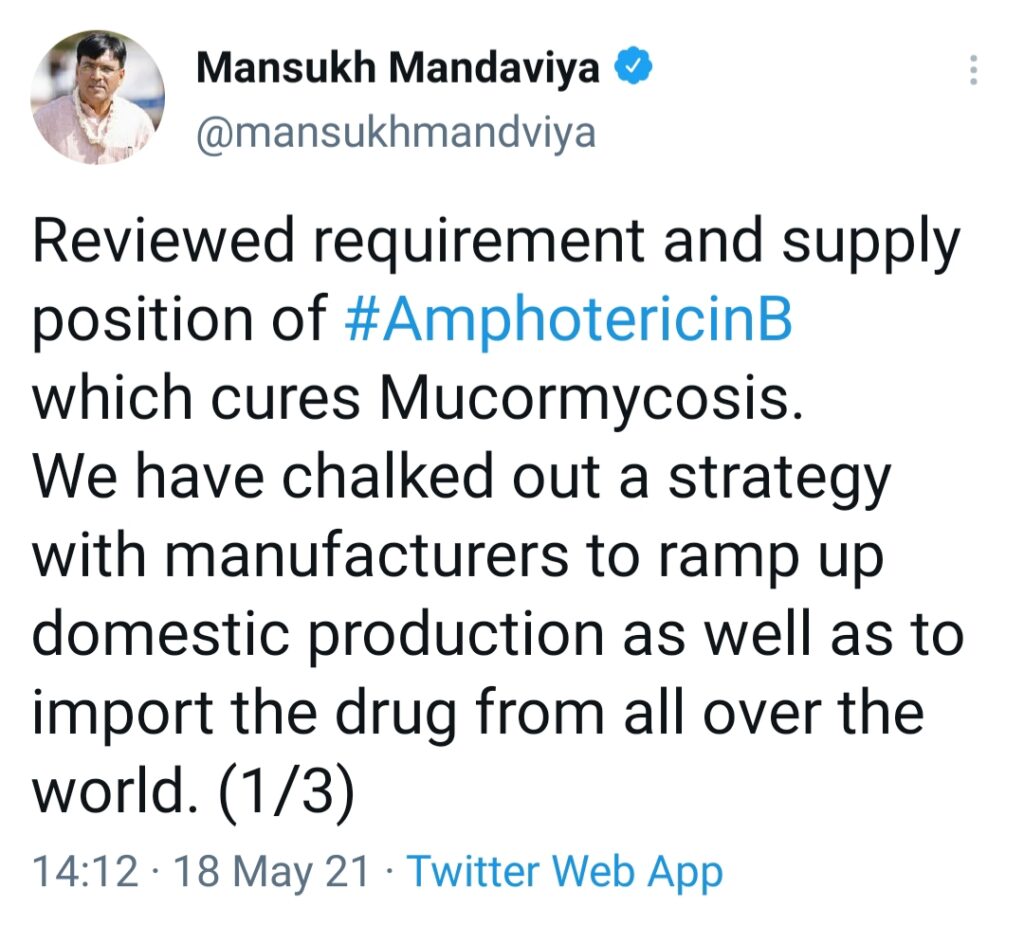 Maharashtra and Gujarat, are the top states with the maximum number of mucormycosis cases. Nineteen states have declared mucormycosis as a notifiable disease under the Epidemic Diseases Act. Harsh Vardhan, in the group of ministers (GoM) meeting on Monday, said that Gujarat reported 2,165 cases, Maharashtra 1,188, Uttar Pradesh 663, Madhya Pradesh 590, Haryana 339, and Andhra Pradesh 248 cases of black fungus.
There is an acute shortage of Amphotericin-B vials in Delhi as the black fungus cases are on a surge. The Food and Drug Administration (FDA) estimates show that Maharashtra requires at least 10,000 injections per day. Bharat Serum, BDR Pharmaceuticals, Cipla and Mylan are major manufacturers of Amphotericin- B injection. There are three types: in plain powder, liquid form and lyophilised. Powder form, which costs Rs 300 per injection, is the cheapest and takes eight to 10 days to manufacture, but can affect the kidney and is not advised to all patients. Liquid form costs Rs 1,000 per vial and takes 10 to 15 days in production. Lyophilised (freeze-dried) takes 28 days in production, costs Rs 6,000 to Rs 8,000 for 50 mg and is in most demand.
Black fungus is an infection that is being found in the Covid-19 recovered patients or those who are still recovering from it. It is caused by a group of moulds known as mucormycetes present naturally in the environment. It mainly affects people who are on medication for health problems that reduces their ability to fight environmental pathogens. The disease manifests in the skin, affects the lungs, and brain. Black Fungus infection or mucormycosis is said to be lethal to those suffering from diabetes and having compromised immune systems. The ramping up of the availability of these injections is being taken care of by increasing the domestic production.
Dr. Sylvia Karpagam, a public health expert said that the state needs to regulate the distribution of drugs properly. There needs to be a regulated body which takes care of the manufacturing of the drugs.
Patients are facing shortage of Amphotericin-B vials across different states.