Blocked roads in Sonepat, Haryana have delayed ambulance calls — endangering the lives of many.
Sonepat: Ever since the second wave of the pandemic imposed a lockdown in the city, from May 03, 2021, multiple barricades have been erected, acting as watchguards for its streets. These bamboo-blockades appeared unannounced, delaying ambulance calls and disrupting lives of the general public — struggling to find their way amidst emergencies or otherwise.
Manjri, who lives in Model Town, Sonepat, said that more than ten entries to the area are blocked. "It takes around 45 minutes to find a route that takes you all the way around to enter the place," she said. "If you don't know which side of the street is blocked, it gets even more difficult." She added, "Being residents of Model Town, we were not informed of this decision prior to the installation of these barricades. The other day I had to go visit my in-laws as they were critical covid patients, but it took me an hour to leave the city itself! It used to take 15 minutes before." Manjri said that she was not able to find anyone who could assist her.
Movement of persons is allowed in cases of emergency; including visiting senior citizens and ailing persons as caregivers during the lockdown, according to lockdown guidelines in the state of Haryana.
Residents like Pushpa Garg, who lives in Tulip City, Sonepat, faced difficulty when she had to visit the hospital. She said, "I had to take my aunt to the hospital when she suddenly started feeling out of breath one night. We couldn't call an ambulance so I took it upon myself to drive her to the doctor, unaware that the roads have been blocked ." She added, "It was a very stressful and scary time. It took us more than half an hour to find the hospital. Thankfully, my aunt was fine but the authorities should have planned to block our town streets better; this mismanagement is a great risk."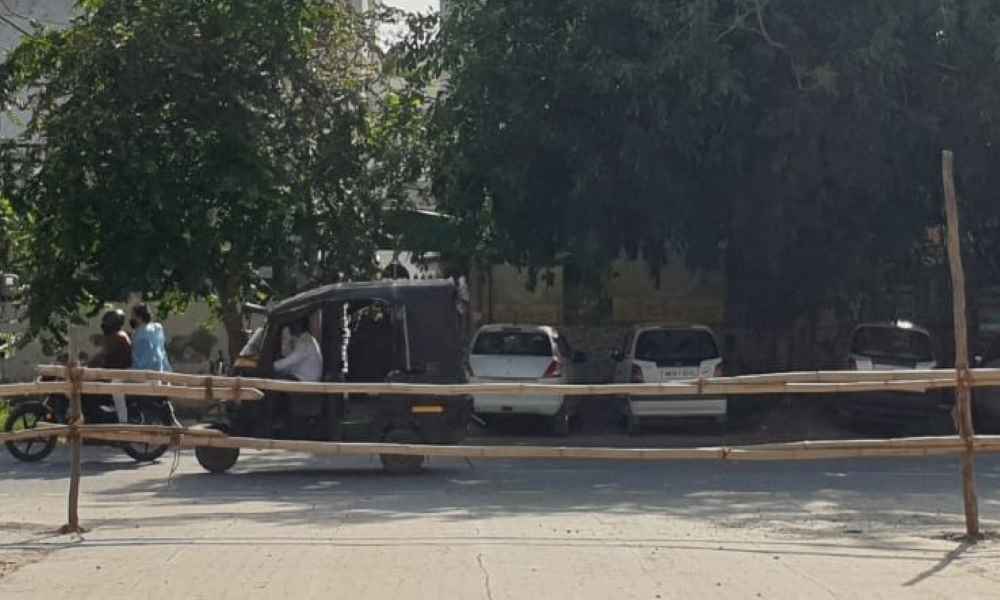 It has been difficult for ambulances as well.
Raju, owner of Raju Healthcare — an ambulance service agency, said that he was not aware when and where these barricades were installed. The drivers have to ask local people about a route that is free of barricades when they receive an ambulance call in the city, according to him. He said, "There are so many streets in the city. We cannot possibly know which one is blocked, and which is available to reach the patient/hospital the fastest. We need to make sure that the distance is covered in the shortest time." Since there were no detailed announcements regarding the issue, he said that ambulances continue to get delayed by half an hour to one hour.
Anil, Senior Correspondent, Dainak Bhaskar, Sonepat, said that the personnel stationed at these barricades are home guards, not officers from the police force. He said, "Out of the large number of barricades installed in the city, several are left unattended. The limited nature of home guards does not allow them to be present at every barricade of every street, so there's no one to clear the path when it's urgent; in case of ambulances, for example." He added that the issue has been brought to the District Magistrate's notice, and that it's likely the barricades will be removed soon.
"We received orders from the district administration, along with the Chief Medical Officer, who acted as advisory," said Anil Kumar, a home guard on duty at one of the barricades in Sector-14. He added, "This helped us to randomly conduct covid tests, on the spot, at various areas in the city. Around 500 people a day were tested when the lockdown started, but since the rate is slowly decreasing, fewer tests are being done. We're trying to relax the barricade restrictions now." He also said that once the authority announces this decision, there will soon be better ease in movement.