Cancer patients are finding it difficult to receive medication and treatment during the pandemic which is affecting their mental health too.
Kolkata: It was in 2019 when Sunetra started having breathing problems. Not knowing the cause, she consulted several doctors and many blood tests later, she was diagnosed with leukaemia. After a bone marrow transplant and three chemotherapies, she is currently at home on medication. But, receiving the medication at this time has become a hurdle for her.
Last year, due to the nationwide lockdown, she couldn't find some of her medicines in Kolkata, but she got help from her uncle who sent her medicines from Delhi. She is one of the thousands who faced this difficulty during the pandemic. According to a study, around 70 percent of patients could not access treatments and surgeries for cancer. Private clinics in major Indian cities reported a nearly 50 percent decrease in cancer patients' footfall during the lockdown. ancer services declined by 50 percent in 2020 compared to the previous year.
Dr Anand K C of Sri Shankara Cancer Foundation said that the availability of medication is not the problem but accessibility is. " Though there is no acute shortage of oncological medications and services, accessibility to cancer care is severely affected. The number of patients undergoing cancer treatment and after completion of treatment care has come down significantly." He added, "Many of these patients have also been infected with the virus. And most patients are also having psychological issues like anxiety and fear of catching Covid 19 infection and disturbed treatment schedules."
He added, "These situations are making the patients anxious, too. Nowadays, we are not receiving many cancer patients due to the pandemic."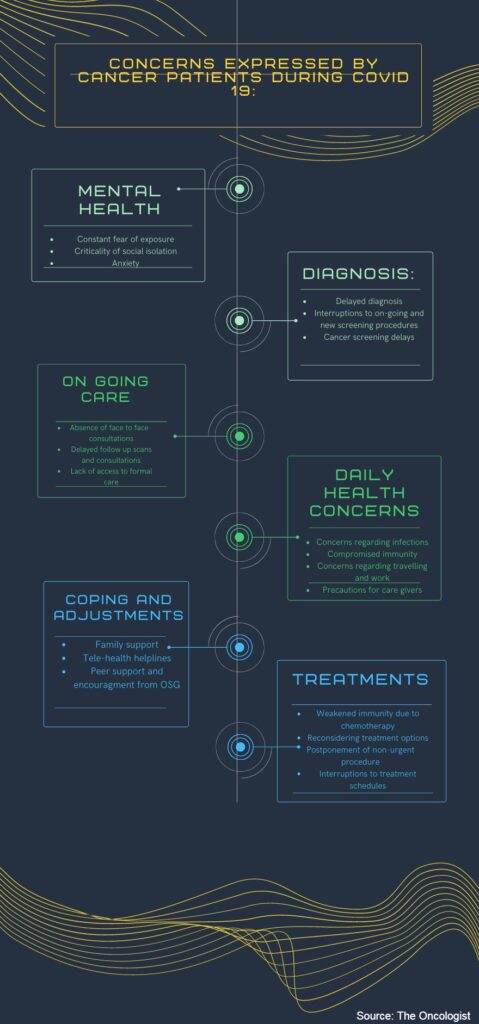 Dr Tapashi Ray, who is a gynaecologist, is suffering from a rare condition, known as Severe Aplastic Anaemia. Even though it's not a type of cancer, the treatment is similar to the one which is given for cancer. "As someone from a strong financial background, I could get hold of the medicines. These medicines are costly and hard to find. The pandemic has made it more difficult, especially for the ones who couldn't afford these during normal situations," said the doctor.
Dr Raguram, a retired professor of psychiatry, National Institute of Mental Health and Neuro Sciences (NIMHANS), and a senior consultant psychiatrist, explained how the treatment facilities are there for the cancer patients during the pandemic, and how this, coupled with prolonged isolation at home, has impacted their emotional lives significantly. "The current COVID situation and the uncertainties associated with it makes it difficult for them to access treatment. The very act of going outside gives them anxiety as they have to be extra cautious. Meaningless WhatsApp forwards, and a plethora of reports about COVID-19 in the media adds on to their distress," remarked Dr Raguram.
Supriti Mitra, a homemaker has been under hormone therapy due to her breast cancer. While talking about her treatments, she said she hasn't faced problems. "I haven't faced many problems while receiving the treatments during the pandemic. But I have to take extra precautions whenever I go for these check-ups which makes me really anxious," said Supriti.