Pedestrians find it difficult to cross busy roads during rush hours as most pelican signals installed across the city don't work.
Bengaluru: A bunch of people tried to cross St. Mark's Road from just outside Bishop Cotton's Girls'High School. Every few steps they took, they paused for a bike, or a car or some vehicle that might run them down. All they needed was a pelican light that they could operate to stop the traffic while they crossed.
Bangalore traffic police have installed 55 pelicans (Pedestrian-controlled traffic signals) in the city, of which they say 50 are working. Most of them are vandalized and some disfunctional. A few of them do not have buttons on the signals.
Destruction of pelican signals
Senior police inspector, traffic planning from traffic police headquarters said," We have installed pelican signals for the citizens so that they can safely cross the road. They must also use it carefully without causing any damage to the pushbuttons. A few pedestrians do not use it with care so some pelicans are broken. Citizens also have a role to play, they should use public property carefully as they use their things."
Prof. Ashish Verma, traffic expert from IISc (Indian Institute of Science), Bangalore said,Citizens should be informed and sensitized to make use of the pelican signals. With better information, pedestrians would use pelican signals effectively. In Bangalore, pelican signals will work only at few places. It is important to check that these pelican signals should not hinder the traffic signal."
M.G Road got the first pelican signal in the city in 2005, which was removed later due to construction work of the metro. Bangalore traffic police installed 52 pelican signals across the city in 2005. The installation of pelican signals cost the Bangalore traffic police around Rs. 4.5 lakh each. A few buttons have been removed for the metro or other construction work. Police are however, unable to provide a list of pelican signals in the city.
No clue about the pelican signals
Satish, an auto driver who parked his auto near Richmond Circle said, "I am hearing it for the first time. I didn't know these signals exist until the time you asked me about it."
When he was shown the pictures of pelicans and told how it works, he said," This system won't work in Bangalore. People will keep pressing the pelicans and this will disrupt the flow of moving vehicles and create more congestion."
Sneethi C.T, an employee of Samsung, who was crossing the St. Marks Road traffic signal said,"Crossing roads in Bangalore is a big task. One cannot cross the road without fear of getting hit by a vehicle. Bikes do not wait for pedestrians to cross the road. They don't care about the red light. I have no idea about the pelican signals and I have never noticed it before."
Pelican signals were installed to make road crossing safer but most of the citizens do not even know these signals exist. The few functional signals are mostly on the central side of the city. Pedestrians complain that vehicles do not stop even after seeing the signal has turned red.
Pelican signals are installed on Queen's Road, near Kamala Bai School, Police Commissioner's office,Infantry Road, Kempe Gowda Road, near Taluk office, Residency Road,near Bishop Cotton School, Richmond Road, Convent Road, Ring Road(KR Puram,Tin Factory), Ulsoor bus stand, Cantonment Railway Station and Cunningham Road,near Wockhardt Hospital in the city.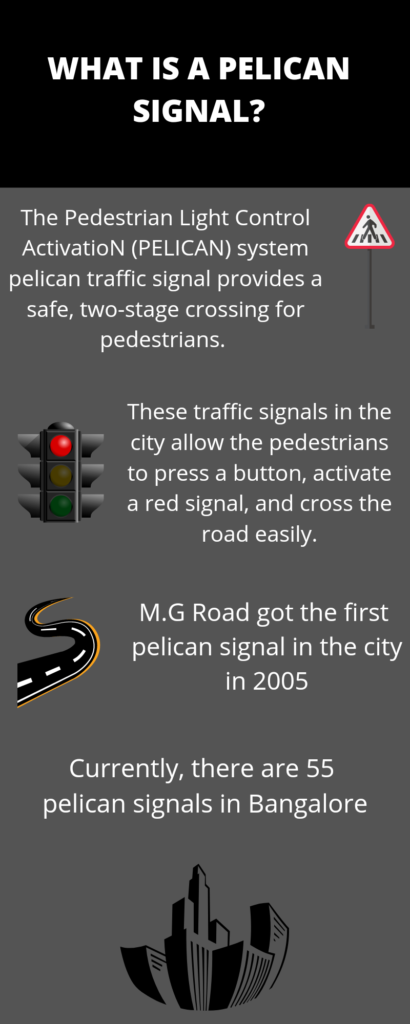 Pedestrian safety campaign
Citizens for Bengaluru, a civic body group had conducted a campaign in 2018 called 'Nadiyelu Bidi' which means 'Right to walk' at Richmond ircle.The motive of the drive was that walking on the road shouldn't be a problem for pedestrians, it should be convenient and easy. Along with them, 300 citizens across the city participated in the campaign.
The former traffic commissioner, R. Hithendra had promised to install more pelican signals for the safety of pedestrians after the protest. The traffic department has still not installed those 60 pelican signals.
Tara Krishnamurthy, co-founder of Citizens for Bengaluru said," Pedestrians safety should be prioritized. The focus should be on building safer ways for the pedestrians to cross the road so that they do not have to run across the road."She said that after the campaign, the police commissioner said that they were bringing some new automatic signals with the l atest Japanese technology,
"People are not aware of the term pelican signals but they know that the buttons are for crossing the road. But, still, people lack awareness about it,she added.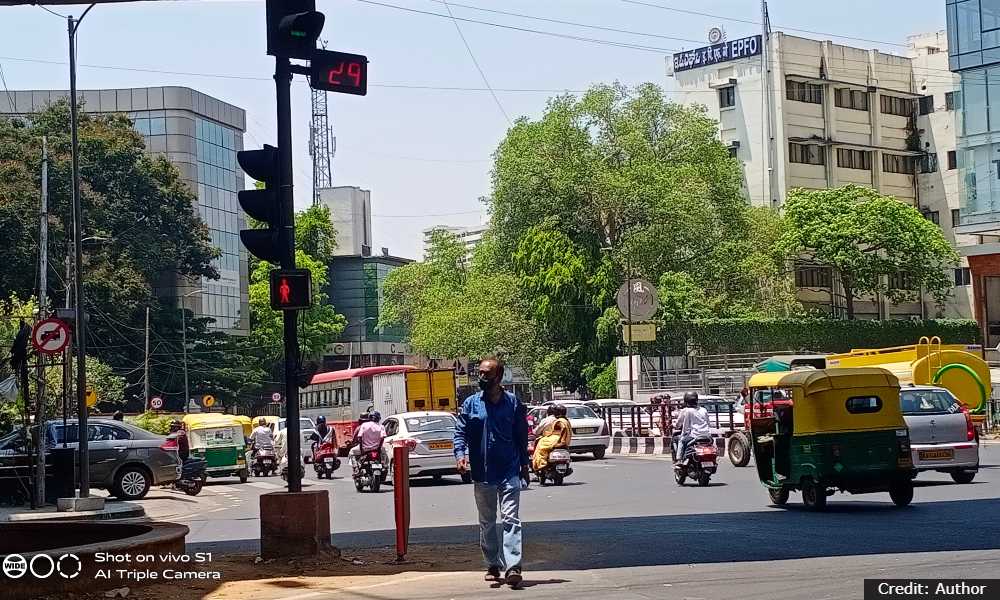 Pedestrian deaths
The Traffic department has failed to maintain these pelican signals even after sustained campaigns on road safety. In 2019, Bengaluru had the highest number of pedestrian deaths (272) in the country, according to NCRB (National Crime Records Bureau) data. Between 2010 to 2018, more than 3000 pedestrians were killed in traffic crashes in the city and double the figures are of people who have been injured.
The push buttons of the pelican signal on St.Marks Road and near Bishop Cotton Girls School were missing. Pedestrians were having a hard time crossing the road at Richmond Circle as there were no pelican signals in that area as mentioned by the BTP(Bangalore traffic police).Pelican signals at K.R Puram and K.G Road are also not functioning.
The watchman of Bishop Cotton Girls School said, "Pelican signals were there earlier but now they have removed it."
According to the new motor vehicle law, vehicles need to stop before the zebra crossing line on seeing the red signal to allow pedestrians cross the road.
Prof. Ashish Verma said," The basic philosophy is to keep pedestrians at higher priority. where pedestrian volume is slow and fixed time pedestrian signal phase is useful where pedestrian volume is high."