Voluntary blood donation in Bengaluru has decreased drastically resulting in blood banks seeking replacement donors.
Bengaluru: For those suffering from thalassemia—a blood disorder wherein the body doesn't synthesis enough hemoglobin, decreasing the blood's ability to carry oxygen—getting consistent access to blood is vital. Patients require an average of one bag of blood every 15 days, but following the lockdown, donors have become scarce and the supply of blood is dwindling.
"Before Covid-19, we used to collect 30,000-40,000 units per month but now it has come down to 3,000 units per month. This fall in collection forced us to go for replacement donation where we ask the patients to bring with them their friend or relative to donate blood for them," said Ravindra, Strategic Partnership Manager of Bangalore Medical Services Trust. "We were capable of providing 200 units of blood for free to Thalassemia patients in a month but now we are able to provide only 145 units of blood for free in a month," he added.
"Covid-19 was secondary for me, finding a replacement blood donor to survive was primary for me," says a Thalassemia patient from Bengaluru. She added, "I take one unit of blood every 15 days. Between my first and second blood transfusion, in that 15 days period, I was unsure if I will survive if I don't find a replacement donor. Initially, people were very active in donating blood but as people became more aware of Covid-19, they became unwilling to donate blood."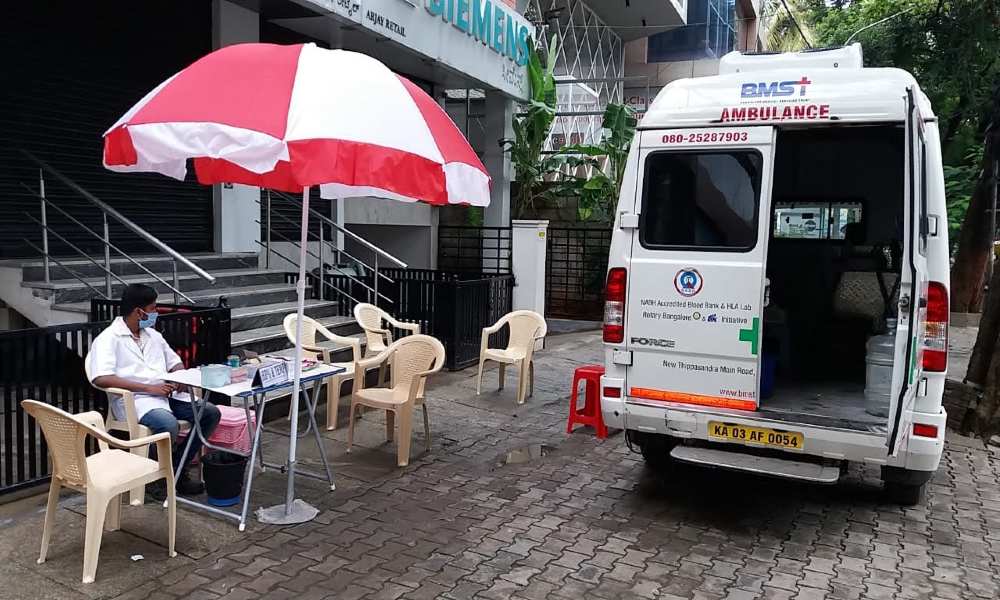 Gagandeep Singh Chandok, President of Thalassemia and Sickle Cell Society of Bangalore, who is also a Thalassemia patient said, "Before Covid-19, except in cases of rare blood groups, we didn't have to ask people for help, but now, we have to take to social media to look for donors." He also said that the vaccination drive is going to make the situation worse, as once vaccinated, one cannot donate blood for a month.
Dr.Shreevali of Bangalore Medical Services Trust who treats around 150 Thalassemia patients said that they have now started mobile blood donation drives. She said, "Thalassemia patients have to undergo blood transfusion in every 15 days and as blood cannot be donated more than three times a year, finding a replacement donor has been really tough."
Abdul of Jeeva Raksha Blood Bank said the number of blood donation camps conducted by them has also decreased. "Before Covid-19, we used to conduct 15 blood donation camps in one month but this year in three months we have conducted only six."
A staff member of the Jayanagar Voluntary Blood Bank said that a decrease in Corporate Social Responsibility activity has affected blood donation camps.
According to e-Rakt Kosh, the number of blood donation camps held in Karnataka this year is 22 while in Maharashtra it is 147 and in Tamil Nadu it is 35.