Citizens, especially daily travelers are facing worse traffic situations due to the highways being occupied in the on-going protests.
Inter-city travelers, especially employees, are facing problems in order to reach and return from their workplaces due to a surge in city traffic since the onset of the farmers' protest. Chaotic traffic was already an unsolved issue for them and the blockades have made it worse.
The farmer agitation demanding the central government to take back the three new laws has now extended to the adjacent areas of Delhi. The NH24 Delhi-Meerut expressway and Ghazipur border which connects Ghaziabad to Delhi is also blocked under these circumstances.
Krishna K Dubey, a Ghaziabad resident who travels daily out of the city to his workplace said, "I do understand the scenario, but the traffic here was already a peak problem the city was facing and now that it has increased to such an extent, citizens become the victims." 
"I sometimes switch to my bike instead of car because of the circumstances and to save my time, but even that is a difficult choice in these Delhi winters," he added.
Somesh Sharma, who visits his workplace alternative days said, "My company has settled for relaxations in office going days for work from home, but it's difficult to manage the days I go to office. I switch roads and go off-route. It takes an hour more than usual to reach. It is really stressful for employees."
They also complained of increased fuel consumption due to the situation.
Traffic SP officer Ramanand PD Kushwaha said, "Everyone, including police, traffic police, citizens and farmers are facing problems. We are trying our best to manage the traffic by diverging it to alternate routes and create awareness about the changes. Most of the daily routes are blocked, and undoubtedly, this situation is difficult to handle. We and people, both have to bear with the problems until they get resolved."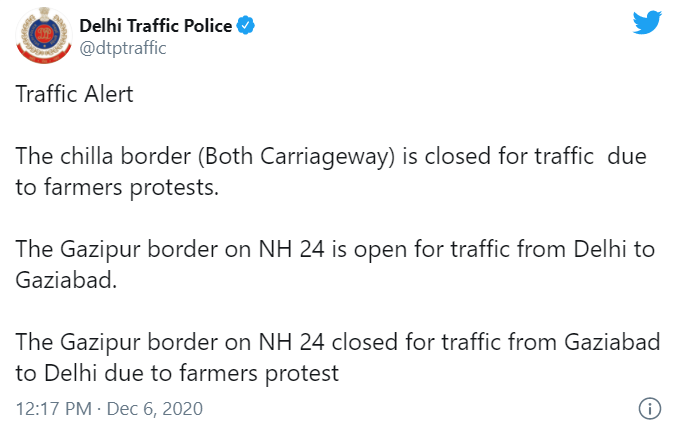 The traffic situation in Ghaziabad was being handled in various areas of the city due to the increasing blockage of roads during peak hours, even before the protest began. The protest has made it even worse for Ghaziabad residents too since they have no other choice but to cross Delhi and its blocked traffic.
Urban planner MN Srihari said, "Delhi is a crowded place and above that, it is amongst the walled cities of the country. The ring road system makes it really difficult to diverge path as compared to parallel or perpendicular road systems." 
Urban planner Virender said, "The only way to tackle this situation is use of divergent roads and awareness of alternate paths. Authorities, on the other hand, should continue to guide people and avoid them from getting stuck. We should stay hopeful for a timely solution to these issues."
The fact that farmers are ready with supplies for months and there is still no visible end to this movement makes it unpredictable for the people and authorities to plan better. The protest in Delhi began on November 28, 2020. Traffic SP officer Ramanand also said that as informed by a few farmers in the protest, the agitation may even continue till mid-January.
On December 17, the Supreme Court commented on the issue saying that the protest was not a wrong movement, but blocking the city or public places whilst protesting was a wrong practice. The SC will also set up a committee to resolve the farmers' issues.