The work-from-home culture is causing acute neck and back pains, leading people to seek physiotherapy in the middle of a pandemic.
Kivleen Sahni | October 22, 2020
New Delhi: The work from home lifestyle has increased neck and back-related pains amongst the younger generation. Delhi's BLK Hospital has seen a 50 per cent increase in reported neck and back pains in the youth post the pandemic.
Dr Dharam Pani Pandey, the Director and Head of Department of Physiotherapy and Rehabilitation of BLK Hospital, talked about the recent trend in increased pain in the neck and back region ever since June this year. According to him, the number of video consultations for neck and back pain has gone up during the last couple of months.
"Earlier, if we had seven patients in a day, hardly one or two patients complained of neck pain. Ever since the lockdown, every day three to four cases of neck pain have been reported," he said.
One of the plausible reasons behind this sudden increase in pain, he said, can be the new working environment that the younger generation finds itself in. In an attempt to further understand this connection, the Physiotherapy unit at the BLK Hospital is currently undertaking a nation-wide survey.
Chhavi Bajaj, a 22-year-old college student, first experienced this pain when her college started online classes and she had to sit in one fixed spot for hours.
"Classes require me to sit on my bed or my table for two to three hours straight. I know studying at the table is considered better but online classes require privacy which I only get in my bedroom," she said.
Abhishek Aggarwal, one of the founders of Rejuvenation Fitness Group, a personal fitness training team based out of Delhi-NCR, called these pains a "common problem" he is seeing these days. "If I get ten queries in a day, eight out of those are for such pains only," he added.
The worst posture to work in, said Praveen M, the Director of Rejuvenation Fitness Group, is lying on the bed. "When you slouch your neck, it keeps the neck muscle stretched and is one of the biggest reasons behind the weakening of the back and neck muscles. When you are sitting upright, your back and neck muscles are working. And unlike popular beliefs, your muscles only get stronger when you work them."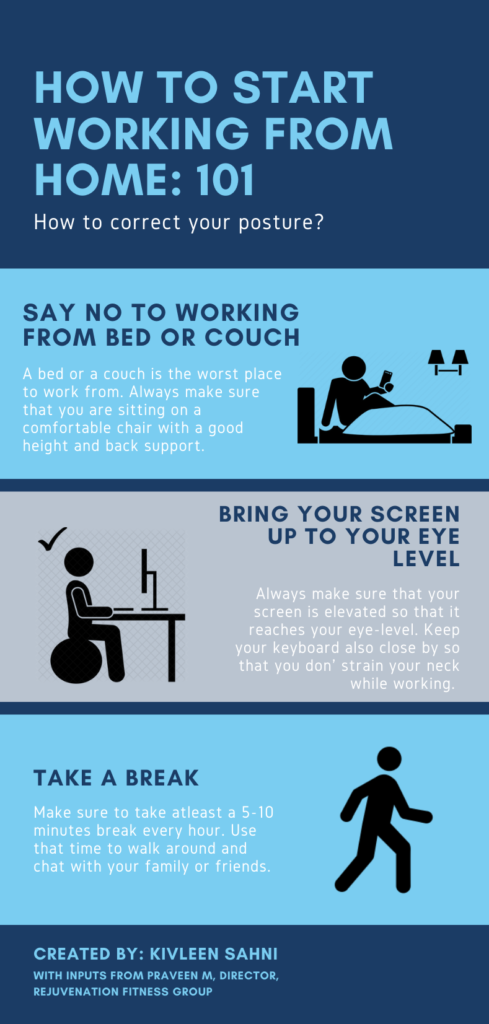 The Delhi State Council of Physiotherapy said they have no data to confirm this increase yet.