Government schools recorded more female enrollments than male ones. However, the reality runs deeper than that, as more boys are sent to private schools.
By Sanchari Ghatak
Beti Bachao, Beti Padhao scheme intended to increase the enrollment of female students in schools, however, people tended to misinterpret it, as in almost all government schools of Shahapur taluk, the number of female students outnumbered their male peers. Well finally a social space in rural India where the girls have outshined boys, right? Sadly, it's a façade. Most families have been sending their sons to private schools and the girl children to government schools.
"I usually go hungry from home, but get an equal portion food as others, at school. However, at home my brother gets the bigger portion of everything, but here in school, I am treated as equal," said Chetna, an eighth grade student of the Rastapur High School, whose brother goes to a private school in Shahapur.
The Rastapur primary school recorded 254 girls and 235 boys, Rastapur high school had 89 girls, 67 boys, Sagar high school had 78 girls, 54 boys, and the Sagar primary school recorded 56 girls and 48 boys, thus proving that government schools have more girls than boys.
"Gender gaps are visible even among young children—with more girls enrolled in government institutions and more boys enrolled in private institutions," stated the current Annual Status of Education Report (ASER).
Vaisiri, a fifth grader at Rastapur Primary School said, "I can't wait to shift to the big school nearby from class six. But sometimes I feel sad. My brother and I will no longer be going to school together. My parents will enrol him in a city school. I wish I could go too. But it's okay; my parents don't have so much money, only either of the children could go. They chose him."
The ASER report further stated that the enrollment gap in government institutions, between boys and girls is larger among 6-8 year olds, with 61.1 per cent of girls for 52.1 per cent of boys.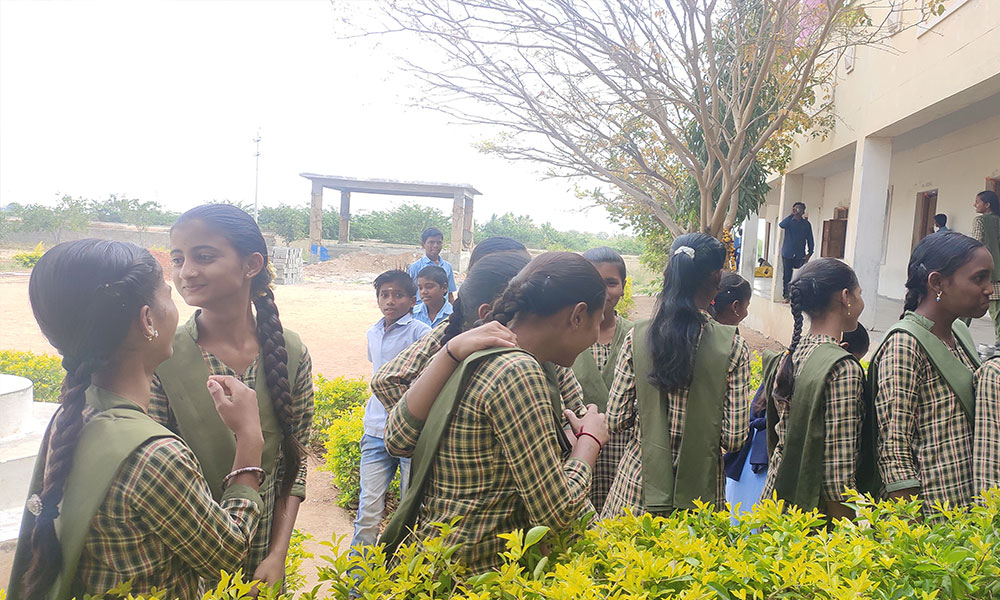 Between the age group of 4-5, 56.8 per cent girls and 50.4 per cent boys are enrolled in government schools or pre-schools, while 43.2 per cent girls and 49.6 per cent boys are enrolled in private pre-schools or schools, the ASER report specified.
"I know this is a problem in our taluk, and I am sure it's the same in most rural areas. People still think less of their daughters. Their only aim is to get their daughters married off as soon as possible. It's sad, but we can't really help it. It takes a lot to change people's mentality. However, we've set up a girl's hostel at the Rastapur High School in order to encourage more girls to come and study here. We've tried creating a safe environment for them," said Jagannath Reddy, the Taluka Magistrate.
"Since we get more female students, we have set up a girl's hostel. We also have adequate stock of pads for our female students, so that they don't skip school. We're glad that the parents are at least sending in their girls. Few years ago, this wasn't the case, as most of the girls used to drop out," Nagaratna, a teacher at the Rastapur High School said.
"There have been instances in the past where we had to go to our students' houses to convince the parents to allow their girls to continue schooling," she added.
Sumalatha, another eighth grader said, "My mother says it will be easier to withdraw me from a government school than from a private school. This is why my brother goes to the private school in the city. Anyway it's important that my brother goes to a better school. We are looking forward to him getting a job and supporting our family."
"My daughter will anyway get married soon and be someone else's property," Sreedevi, Sumalatha's mother added.
However, the ASER report highlighted that across all age groups girls enrolled in private schools are performing better than their male counterparts.
On the eve of International Women's Day last year, the national RTE forum convener, Ambarish Rai had said: "More than 60 million children were out of school and its various activities.The condition of the girl child's education is at dangerously low levels as 30 per cent of girls from poor families have never entered a physical classroom and its boundaries. Around 40 per cent of adolescent girls aged 15-18 apparently have not seen a school in their lifetime."
Bhagappa, a teacher of the Rastapur primary school said, "Most boys shift to the private school in Shahpur. We have seen cases where the boys drop out at as early as class three, to get enrolled in the city private school. It's sad, but we can't help it. That's the common mentality here. Although at times we try going home to home and convincing parents in case their daughter drops out, but in the end, it's their decision."
Brinda Adige, a Bangalore-based women rights activist said, "Although the numbers may look like a dream come true for India, yet the sad reality pops up when dug deeper. It has always been a norm in India to educate the son and marry the girl off. In the past too, boys were sent to Gurukuls while the girls stayed back and learned household chores. However, these archaic norms seriously need to change now. The government should be more actively looking into the rural education system, and just allotting funds won't help to better the situation."