City suffers from 'unplanned' dumping of animal waste. After two years of witnessing the disgusting sight of scattered animal waste by the employees of GiftAbled NGO, the area became clean within a day after they lodged an FIR against Bruhat Bengaluru Mahanagara Palike (BBMP) staff for dumping animal waste outside their workplace.
By Ritam Chatterjee
February 25, 2020 || Bengaluru
People have been dumping animal waste for years now outside GiftAbled NGO. The employees have complained multiple times to BBMP, but no serious action was taken against it. Finally, they filed an FIR at the nearby police station and they were rewarded with a clean area within a day.
Last year, a news report stated that there was no systematic disposal for animal wastage dumping in Bengaluru. BBMP estimated that over 40 tonnes of animal waste in various parts of the city — which could be skin, offal, feathers, bones, and other leftover animal meat — from butcher shops are disposed daily without a "systemic" plan.
Deekshita Ramesh, an employee of GiftAbled NGO said, "All the animal waste like fish, prawns, chicken intestinal waste, etc. were thrown outside our office at midnight. We have CCTV cameras outside the office, and it clearly shows that the waste is thrown by the BBMP workers."
"We reached out BBMP several times by mails, but they did not give any response. So, we had to file a FIR at Kormangala Police Station against them the day before yesterday. Since then, they have been cleaning the aread and right now it has been totally cleaned," she added.
Sashidhar, the police inspector of Kormangala Police Station said, "Yes, we registered a complaint from the NGO employees and informed BBMP Solid Waste Management Department to take care of the area."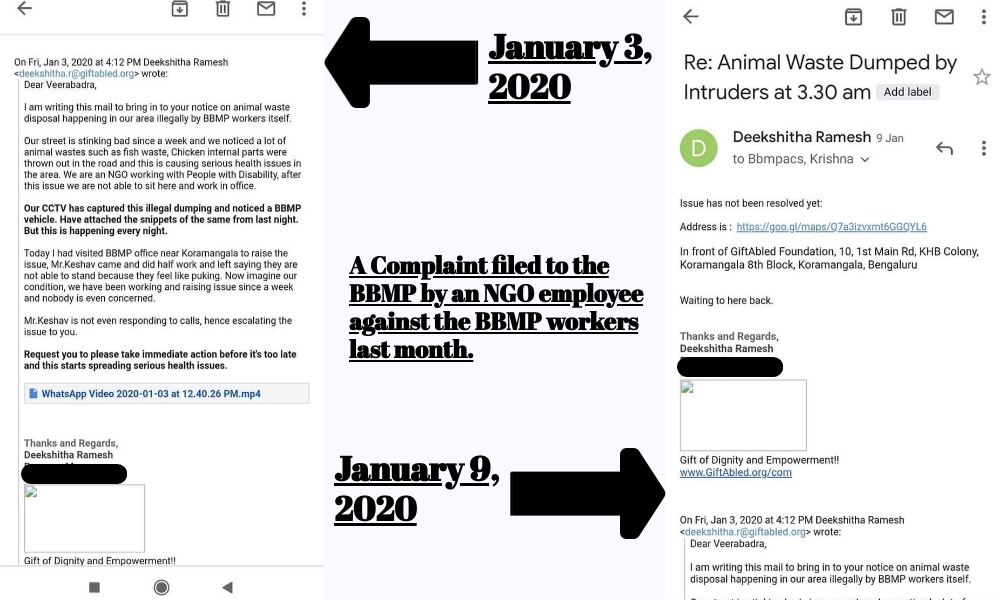 Krishna Kumar, a local citizen, said, "The whole street smelled and we block our nose while walking. Some flies may cause serious health issues."
Priya Narayan, another employee from the NGO, said, "We have complained multiple times to the Kormangala BBMP office in the past two years. We wanted to know what can be done so that the street outside our office becomes clean. But, they didn't help us and use to cover the place with mud and leave it."
Suresh Heblikar, the Chairman of Eco-Watch said, "It's very disappointing that a city like Bengaluru does not have any animal waste dumping system. Though it is a serious issue, unfortunately, the state hasn't come up with a solution yet."