With 500 manned and 388 signalised among 44,000 intersections, Bangaloreans are spending the majority of their day stuck in traffic.
By Arghyadeep Dutta
If you have not taken a nap or completed a full chapter of your book while stuck in a traffic jam in Bangalore, then you are not living in Bangalore.
The city has 4638 traffic police personnel to maintain the traffic, with nearly 82 lakh vehicles travelling on the roads regularly, leaving Bangalore with one of the highest traffic police to vehicle ratio among all metropolitan cities in the country, according to Traffic Management Centre, Bangalore.
There is one traffic cop in Bengaluru for every 1768 vehicles and the recommended traffic police to vehicle ratio for Category 'A' cities (cities with a vehicle population of 20 lakhs and above) is 1:700, according to the 2015 report by Bureau of Police Research and Development, Ministry of Home Affairs. It indicates that a traffic cop has to manage 150 per cent more vehicles than what is recommended.
Among all the metropolitan cities of India, Kolkata enjoys the lowest ratio of 1:421, of traffic police to vehicle population with 16 lakhs vehicle plying on the street, whereas, Delhi has a traffic police personnel per 1773 vehicles which is a bit more than Bengaluru.
As of July 2019, there are more than 82 lakh vehicles registered in Bangalore, according to the data by Bangalore Traffic Police. Meanwhile, there are 44,000 intersections in the city, wherein 388 intersections are signalised, and 500 are manned, leaving a majority of intersections rampant, as per the data by Bangalore Traffic Police Department. This creates a traffic bottleneck during peak hours in the city. Bengaluru Traffic Police department has a sanctioned strength of 5306, which indicates there is a 12.59 per cent shortage of recruitment as per the Traffic Management Centre.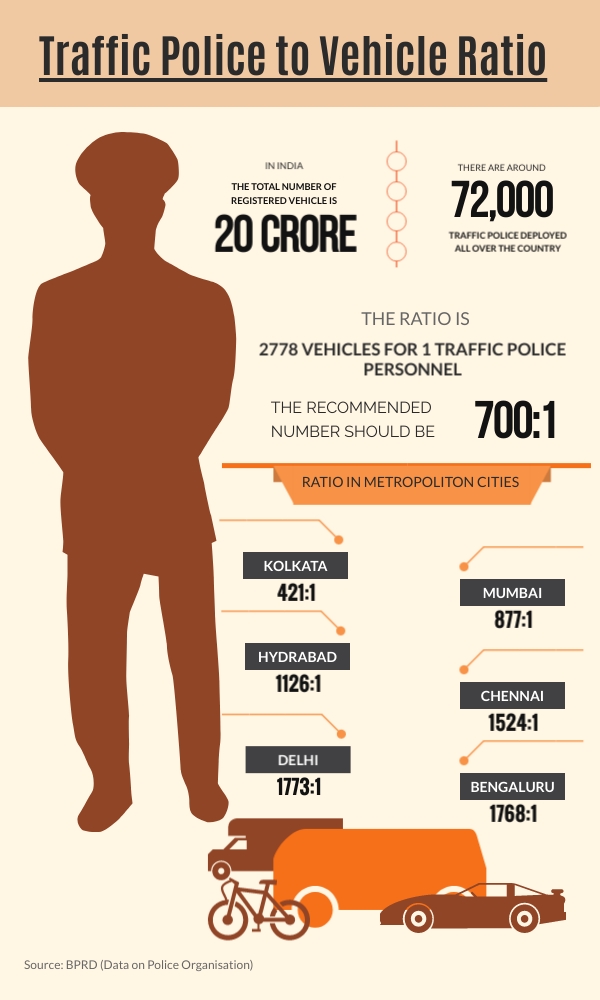 Amit Kumar, an IT employee sais, "I feel frustrated when I get stuck in the traffic jam. It generally takes me an hour to reach my office from my house in Malleshwaram but during the peak hours, it can take around two hours."
M. N. Sreehari, a traffic expert, said, "Bengaluru has the most prominent traffic jams in India and automated traffic signals cannot always handle the traffic situation. In most metropolitan cities, the number of traffic police personnel have not been increased to sync with the rising vehicle population. The government should recruit adequate number of traffic police personnel to keep up with the increasing number of the vehicle population."
"Our main target is to focus on high-priority areas by working efficiently so that we can manage the shortage of manpower," said B.R. Ravikanthe Gowda, Additional Commissioner of Police Traffic.
Bangalore Traffic Police set up Bengaluru Traffic Improvement Project, B-Trac in 2010 which is funded by the Karnataka Road Development Corporation Limited (KRDCL) to address the issues of traffic congestion. The goal of B-Trac was to reduce traffic congestion at central Bengaluru by 30 per cent but it has not been able to deal with the vehicle population. In November 2019, Bengaluru Traffic Police department deployed 200 life-size mannequins dressed in traffic police uniforms to keep traffic violators in check and to keep up with the increasing number of vehicles.
Next time when you are leaving home for work, carry books. You might as well catch up with some reading in the traffic jam.
Update: Bengaluru is the most traffic-congested city in the world as per the TomTom Traffic Index 2019.