Dearth of facilities in EWS quarters at Sarjapur has delayed housing to those evicted from Ejipura.
By Pradnya Desai
After years of staying in tin sheds on footpaths, those evicted from Ejipura, have been rehabilitated to Sarjapur without ensuring water or electricity connection. The residents receive electricity for only three hours a day and are billed Rs. 900 per month per flat. Families rely on candlelight. These absence of facilities has delayed the shifting of many.
Shantha Marry, a resident of Sarjapur EWS quarters told The Softcopy, "Corporation had assured us houses at Ejipura. The quarters in Sarjapur are still under construction. We do not have a metered connection of electricity or water yet." She had filed a petition in 2014 which was signed by 363 people for their 'rightful rehabilitation.'
People live in around 120 flats out of the total 900. A court order along with the biometric identity of the residents is pasted on some doors authenticating their stay. But not all the occupied flats have the same pasted.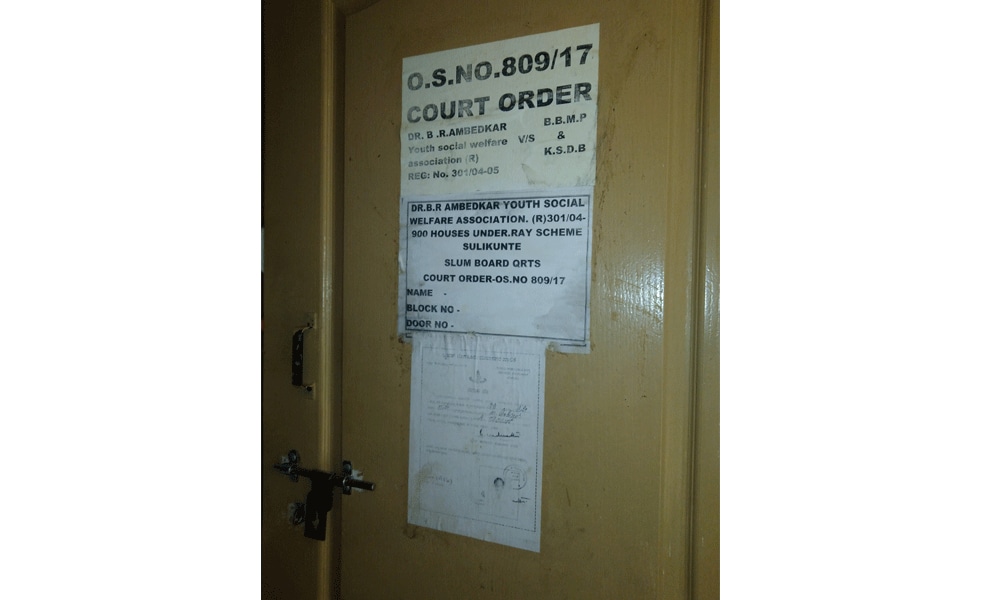 Assistant Executive Engineer of Karnataka Slum Development Board (KSDB) Mr. Chandrappa said, KSDB does not deal with allotment of the flats; BBMP is responsible for the same." Chapter 5 of The Karnataka Slum Areas (Development) Act, 1973 mentions KSDB's role to ensure transfer to the previous occupants.
BBMP Assistant Revenue Officer of Mahadevpura Zone Mr. Shivalingappa said, "BBMP is not involved in the allotment of flats, BDA looks into it."
Vimala, an erstwhile resident of Ejipura who now lives at Racecourse Circle Bangalore, owns a flat at the Sarjapur quarters. "Transportation cost from workplace to Sarjapur, absence of water and electricity are the reasons for not shifting," she said.
Major expenses include water tankers, drinking water and transport. The quarters are 25 kilometers away from the eviction site in a secluded area near Sulikunte. Residents complain of episodes of violence, while one of the residents seeks police protection.
Dr. Joshua M. E. Rajan, State General Secretary of Republican Christian Federation who is helping the cause of the residents said, "320 out of 900 flats have been allotted out which many lay un-occupied. There is a severe problem of access to fundamental facilities and safety of life."
The 2014 judgment said the residents were to be handed over the flats without being charged an extra amount. Yet inhabitants claim to have paid an amount varying between Rs. 1000 to Rs. 5000 to be able to stay here.
Dr. D. Rajasekhara HOD at Institute for Social and Economic Change (ISEC) said, " The process adopted for the selection of beneficiaries of housing programmes is dominated by political interference which delays handling over of housing units. Also, evidence shows that the quality rendered by a PPP arrangement has generally been lower than in pure private initiatives."
The new EWS quarters built under a Public-Private Partnership (PPP) between Bruhat Bengaluru Mahanagara Palike (BBMP) and Maverick Holdings is not yet completed. Yet, some of the blocks have already developed cracks.
Assistant Executive Engineer of Karnataka Slum Development Board (KSDB) Mr. Chandrappa said, "KSDB was the constructing body. There is no possibility of cracks as the construction is of concrete. We will do the needful regarding the cracks."
The EWS quarters were completely demolished in 2013 after the collapse of one of the quarter walls at Ejipura that killed two children. The demolition brought the residents on the footpath.