The number of cases of dowry harassment in the city have seen an 18 per cent rise.
By Archita Chakraborty
Bengaluru is facing an increase in number of dowry crimes. A total of 1,063 dowry cases have been filed at Chief Metropolitan Magistrate (CMM) Court last year. The number of dowry cases under IPC section 498A in this year is 811 which was 687 last year till August, showing an 18 per cent increase.
Jyoti Yadav, 22-year-old, a victim of dowry said, "I got married in 2017 and my husband started to torture me after one month of our marriage. His family started to pressurize me and my family for more money and gifts. I left his house after one year and filed a case but the case is still in the court."
The Dowry Prohibition Act, 1961 states that if anyone takes or even helps someone in taking dowry, he shall be imprisoned for a term which shall not be less than five years and a fine which shall not be less than a of minimum Rs. 15,000 or the total sum of dowry. Also the section 498A, the anti dowry law states that a complaint can be filed against the cruelty of the husband or the family where the punishment will be three years of imprisonment.
DCP of crime section Mr.Kuldeep Jain said, "In 2019, there are 350 cases of Dowry Act filed and 90 cases have been solved till now. We are trying our best to investigate other cases as soon as possible. Sometimes, the false cases are being filed too. We have found 64 false allegations in last year." These cases were filed in police stations.
In 2018, there were 494 cases in urban Bangalore which are filed under Section 498A. But in this year till August there were 350 cases already filed according to City Crime Records Bureau.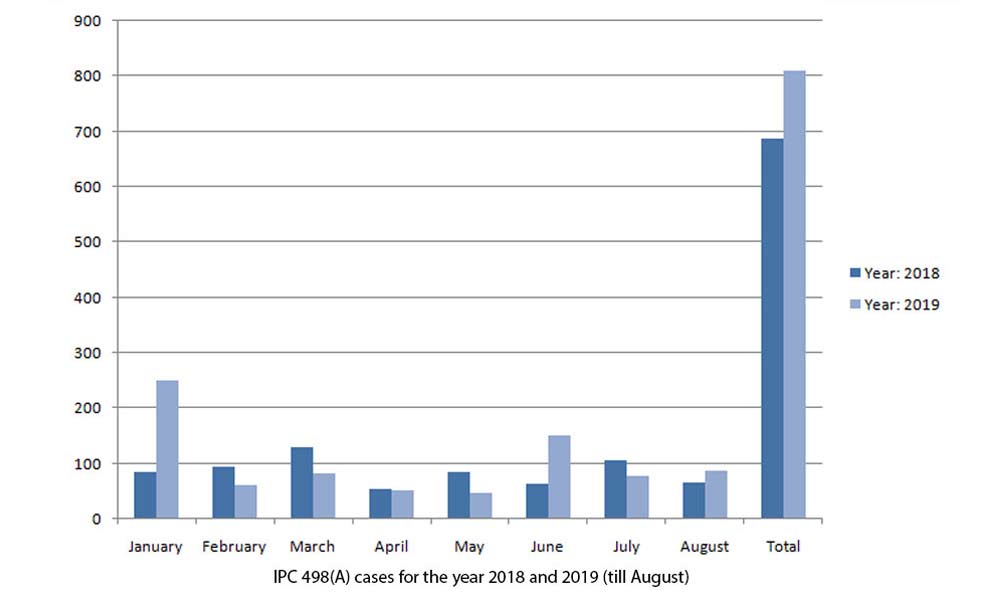 Shova Rani, an advocate for matrimonial and family cases said, "Major reason of increasing of dowry cases in our society is psychology of men, their ego and dominant nature. The husband or his family's humilitation on the bride for dowry. Once the case comes to the court, the accused and the victim both gets good reality check and sometimes leads to withdrawal of cases as well."
Aparna Purnesh, a senior councilor at Parihar, a family counseling centre, said, "Dowry cases are increasing rapidly. All the classes of society are committing this crime. It sometimes leads to domestic violence by the victim's husband and in-laws."
"Though women are becoming independent, they are the victim of male dominance. The situation can be improved only when the society will be more concerned about women and their safety. Presently, there are some faulty cases being filed too. It is difficult to understand who is accused and who is victim." she added.