Bruhat Bengaluru Mahanagara Palike collected Rs. 2,565 crore, out of the set target of Rs. 3,100 crore in financial year 2018-19.
By Shivani Verma
In the financial year 2018-19, BBMP missed their target collection of property taxes in India's high-tech industry by Rs. 535 crore. The Bruhat Bengaluru Mahanagara Palike was only able to collect 63 percent of the target set for the previous year.

Out of 16,23,000 property owners in Bangalore only 11,25,000 owners are paying property taxes, says BBMP official.
Bruhat Bengaluru Mahanagara Palike (BBMP) has set a target of Rs. 3,500 crore for the financial year 2019-20. In the first five months of this financial year, the agency has collected Rs. 122 crore. BBMP revenue department data shows, only 32 per cent of people have paid till date.

"Only 3,10,000 people would pay the tax at the very earliest of the financial year. There are many people who would not pay property tax. There isn't any particular section of people who would not pay the tax because most of the people come under the list of defaulters," M Venkata Chatapathy, Joint Commissioner of Revenue Department told The Softcopy.
"People skip to pay the property tax even for more than one year. We generally issue the show cast notice first, if they still don't pay the due amount then after 15 days we issue the warrant to confiscate their movable properties like vehicles, property etc to realize the tax money," Chatapathy added.
Property that is included for property tax purposes generally includes independent buildings (residential and commercial), flats and apartments, shops, godowns, vacant land etc.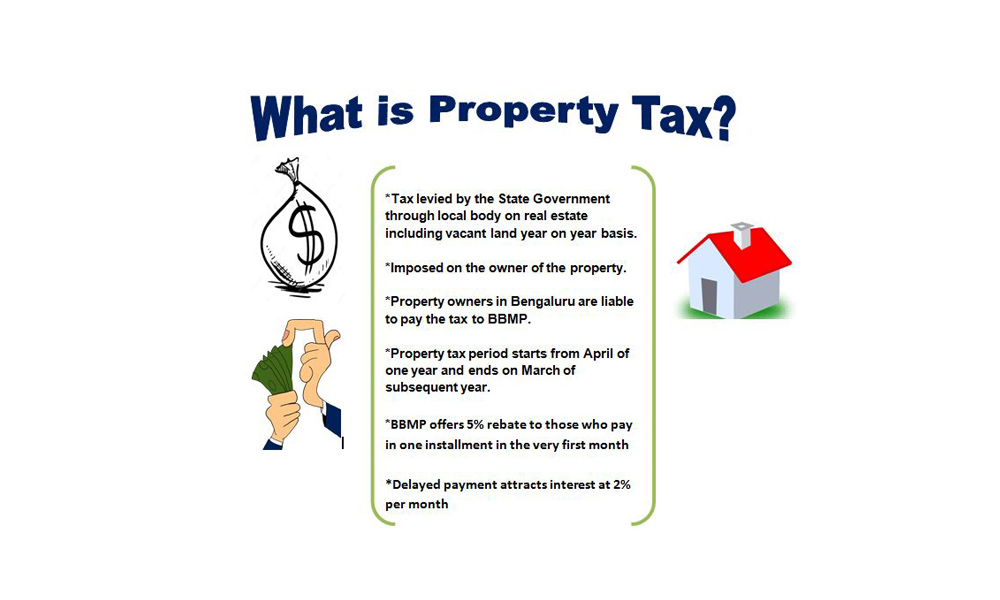 "There were a total of 75,000 defaulters in 2018-19," Venkata Chatapathy told The Softcopy.
Shobana TS, an assistant professor at BMS College said, "I don't own full property. My husband and I have a joint account. Previously, we were not regular payers as we didn't know where to go and how to pay. Still there are people who lack awareness for the payment of property taxes. Now, I pay regularly online and we don't have to stand in queue anymore like before."
Owners of properties in Bengaluru are liable to pay property tax to BBMP every year. The municipal body utilizes these funds to provide civic facilities in Bengaluru. The BBMP follows Unit Area Value (UAV) system, for calculating the amount of property tax. The UAV is based on expected returns from the property, depending upon its location and nature of usage of the property.
Lokesh Aradhya, owner of multi-brand car services said, "Residential building owners do pay regularly. The irresponsibility comes when commercial and semi commercial property owners enter into the picture. Also, illegal constructions without any plan approval also add to nonpayment of property taxes."
The jurisdiction of the BBMP is divided into eight value zones, based on the guidance value published by the Department of Stamps and Registration. The property tax rate will differ, according to the zone in which the property is located.
Anjan Kumar, who provides real estate services said, "People paying regular property tax has an edge over those who don't pay. Properties with a good history of tax payment attracts better tenants and resale of these properties is easier."
"Corporate clients will always choose properties which are free from tax defaults," he added.
BBMP also offers a five per cent rebate on property tax paid in one installment within due date stipulated by BBMP. Delayed payment of property tax attracts interest at two per cent per month or 24 per cent per annum. Property tax can also be paid in two installments without any interest and without rebate.
BBMP property tax can be paid either manually or online. BBMP data shows 48 per cent payment is usually done through online mode, remaining 52 per cent being done by bank.
Dimple Kriplani, a chartered accountant said, "People should pay property tax as it's not only a legal obligation but a moral one too, as the amount citizens pay to Municipal Corporation as property tax, is utilized to deliver services like social, infrastructural, roads, schools, hospitals and other civic facilities."