After BBMP banned outdoor advertisements in the city, BMRCL plans to bring its own advertisement policy to increase its revenue.
Vivek Kumar M
In a bid to increase its revenue, Bangalore Metro Rail Corporation Ltd (BMRCL) plans to bring in a 'Metro Advertisement Policy'. BMRCL's 2017-18 annual report shows that the city's metro is running at a loss of around Rs. 350 crore per annum.
After Bruhat Bengaluru Mahanagara Palike (BBMP) drafted by-laws banning outdoor advertisements in the city, BMRCL's revenue was affected by around Rs. 8 to 10 crore last year.
BMRCL was forced to remove the advertisement boards that were put up on its metro pillars because of the new rules set by BBMP. Asset manager of BMRCL, Mr. Tontadarya, said "We are working on bringing 'Metro Advertisement Policy' within the next two months. We expect this policy will boost our revenue."
The decision to ban outdoor advertisements was taken because of illegal hoardings in the city along with a concern for public safety. BBMP data showed that more than half of the 3,652 hoardings in the city were put up illegally without BBMP's permission. BBMP Assistant Revenue Officer, Srinivasan said, "Even BBMP has faced Rs. 30 to 35 crore loss in a year after the ban on advertisements."
Outdoor advertisement agencies are also facing hard time due to the ban. Mr. Anil, who is working at Street Smart Media Solutions Pvt Ltd, a major advertising agency, said, "OOH (Out-Of-House) advertisement agencies are bearing losses due to BBMP's move. Our office is closed for now as we don't have any new work coming up."
Mr. Sameer, Engineer, Centre for Urban and Rural Infrastructure Planning Enterprise (CURIPe), says that the space inside the metro station can be used effectively to generate revenue. As for the people travelling in the metro, they will not be affected by it.
Krishnakumar M.P, former advertisement in-charge of BBMP, said, "The new policy will generate good revenue for BMRCL and advertising agencies are looking for new platforms after the outdoor advertisement ban by BBMP. BMRCL, though, will have to take permission from BBMP to get the policy passed."
Tontadarya further said, "On an average, advertisements inside the metro stations will cost Rs. 280 per square feet for a month. The charges will vary according to proximity of stations to the city. Crowded places like Majestic, MG Road, KR Market will have higher costs compared to the likes of Peenya, Jalahalli and other metro stations"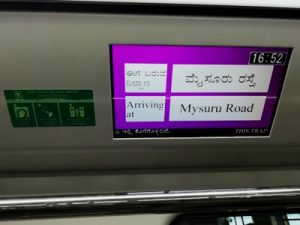 BMRCL is also planning to include provisions for digital display on issues of social interest like election awareness, AIDS and Cancer awareness, etc inside the metro trains.