The erstwhile lush-green Kacharakanahalli Lake has become a go-to place for garbage dumping. Bruhat Bengaluru Mahanagara Palike (BBMP) trucks and bins occupy a portion of the lake-bed causing severe stench.
Pradnya Desai
Bengaluru
The 57-acre Kacharakanahalli that belongs to Bangalore Development Authority (BDA) is turning into a junk-yard. The source of the garbage is debated. BBMP trucks are parked on the waste mound. The BBMP Collection Centre is two kilometers away from the site. A few BBMP auto-trippers are also parked near the temporary dwellings on the lake-bed.
BBMP Superintendent of Solid Waste Management, East Zone, Mr. Lokesh said, "If the trucks are parked it is not an issue. If they litter, strict action will be taken. The bins are kept in order to prevent waste disposal in the open."
"The lake has become a den of illicit activities. A couple of weeks back a cow was skinned here which caused severe stink, the BBMP trucks are at times filled with waste, causing stench." said a local tempo driver. The carcass of the said cow and a calf was in the landfill.
The BDA draft 2031 shows the revived lake and other details about the temple properties near it. Karnataka government records show it as BBMP lake. Technical staff of Karnataka Tank Conservation and Development Authority, Mr. Yajuvendra said, "the lake now is under the purview of Minor Irrigation and Ground Water Department." BDA Engineer Mr. Farooq said "The lake now belongs to the BDA", substantiating it with records.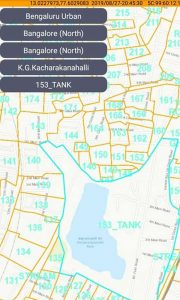 The activity on the lake on survey 153 is also altering the flow of the drain that is skirting it. A member of the ISKCON temple trust Varadakrishnadasa said, "We are not aware of the BBMP waste disposal." Narayan.B.S., a member of 'Janadhikara Sangharsha Parishad' identified by Karnataka Lake Conservation and Development Authority as custodian of the lake said, "All the property on the lake bed is encroached property and the struggle to revive the lake hasn't been successful."
The storm water drain lining the Kacharakanahalli lake as well is facing solid waste disposal, which is disturbing the flow of water. Bhole Vishwakarma, an environmental engineer said, "Storm-water drain should be covered and free of encroachment so that it discharges with rain flow and lake bed should be free of encroachment to receive the inflow to keep the surrounding area free of flood."