The historic Begur Fort which is not conserved as a protected monument by Department of Ancient Museums and Heritage (DAMH) is deteriorating due to neglect.
By Shalu Chowrasia,
Conservation work of Begur Fort, a 500 year historical site located in Akshayanagar, has been put on hold as DAMH is yet to receive approval from the Revenue Department of Bangalore.
Dr. Nagraj Sharma, a researcher in Art & Archaeology said, "The fort is historical and every bit of it should be preserved. It might not be possible to restructure it to its original state but at least further dilapidation of the fort should be avoided."
Record of Rights of Village Begur, dated September 11, 2004, shows that the two temples inside the fort area, Shree Gopalaswami Temple and Kashivishveswara Temple, are owned by the government whereas the rest of the land is private property owned collectively by three individuals.
Dr. R. Gopal, Director of Bangalore Government Museum said that a proposal was sent to the District Commissioner's Office stating that the fort is of ancient importance and due to construction of many residential buildings and layouts, it might lose its historical importance. It is the function of DAMH to preserve old buildings of historical and architectural importance which will represent the history and culture of the past to future generations.
On October 26, 2018, DAMH sent a proposal to the Revenue Department of the state seeking the land titles of the site to begin conservation work. The proposal has not yet received any approval. The carvings on the walls and the lone pillar of the fort continue to erode.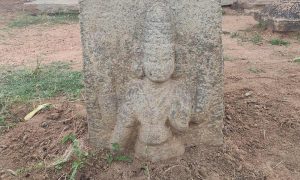 In the recent years, the Fort has turned into a playground for the local children. Srinivas, a local said, "At least the fort is being used for some purpose. Some people come and scrub the walls with sand paper for research purposes as there is no one to look after the fort."
The history of Begur village can be traced back till A.D. 900 and the Mysore Archaeological Reports show that the place is of considerable antiquity. Begur Fort has a circular boundary, which is approximately 1.4 square kilometers in area. Girish Dixit, the Mukhya Purohit of Nagesvara Temple in Begur said, "Like the Nagesvara Temple, the fort is also important to the history of Begur."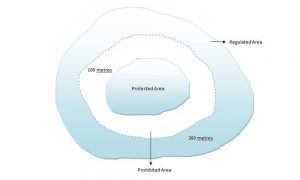 The DAMH report shows that the boundary of the fort was constructed with stones surrounding a mud wall. It was looked after till 1850, after which, people started carrying away the boundary stones of the Fort to construct their private properties. Within the fort area, there is a Shree Gopalaswami Temple, a Kashi Vishveswara Temple and an ancient well. There were two doors to enter the fort and there were inscriptions on the temple wall.