Street vendors around the city wait for their ID cards and license to be issued.  BBMP promises to form Street Vending Committee in 2019.
Astha Oriel
Street vendors in the city are facing problems doing business due to non-allocation of vending zones. The town vending committee has not been formed yet in Bangalore, five years after the implementation of the act by Ministry Of Housing and Urban affairs in 2014.
According to the Protection Of Livelihood and Regulation Of Street Vendors Act, 2014, a Town Vending committee (TVC) should be formed to provide license to the street vendors. The Town Vending Committee formed by the municipal corporation is for the regulation and maintenance of street vendors in the city and allotment of vending zones.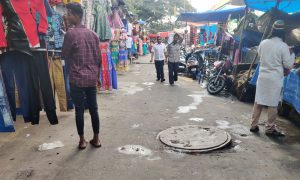 Nagendra Naik, Assistant Commissioner of the Welfare Department of Bruhat Bengaluru Mahanagara Palike (BBMP) said, "Right now we don't have a town vending committee instead we have an ad-hoc committee. The chairman of the ad-hoc committee is the BBMP Commissioner and a number of BBMP officers are its members. No street vendors are the members of the committee. Also, the elections of the Town Vending Committee will be conducted soon, once we finalize its rules." He added, "A survey is being conducted throughout Bangalore. We have around 25 per cent of population as street vendors. BBMP has asked the zonal officers to look at two vending zones as modules. BBMP is committed to form vending zones".
Faiyaz Pasha, a bakery vendor in K. R. Market, said that the street vendors in the area have not been allocated any place for vending. Every day he faces harassment from the police to leave the place, and in order to work he has to give Rs. 400 every day as bribe to the police officials.
Regarding this matter, Mr. Nagendra Naik said, "There are cases when street vendors complain about harassment by the police, we are taking complaints orally. Once the rule comes out, we will act in accordance with that."
The street vendors union, Bangalore Jilla Vyapar Sanghatanegala Okkutta, has been constantly asking the BBMP, for the provision of ID cards and license. Karnataka High court in June 2019, had asked for an explanation from the state government, regarding delay in the formation of TVC.
Mr. Kamalludin Ahmed, an independent advocate, who has been following this matter said,  " From a legal perspective, doing business on the streets without shops or shop numbers is illegal." He added, "However, vendors committee has to be formed, so that street vendors can get justice."
BBMP is, however, sure about formation of Town Vending committee in 2019.
Mr. Nagendra Naik said, "BBMP is committed to form vending zones. BBMP has asked the zonal officers to look at least two vending zones as modules."