According to the City Crime Bureau, child labour still remains a major issue in the city of Bangalore.
By Hansy Sanctis
Bengaluru, Jan 17. 2019: According to the CCRB, labour contractors have been employing children below age 18 in construction work. They work on a daily contract basis, earning daily wages which are legally less than what is described for every kind of job.
The Bengaluru Bruhat Mahanagara Palike (BBMP) gives the road maintenance and construction tenders to freelancers on a contract basis, for a fixed rate of income based on the tenders. The contractors have taken to employing children under the legal age to work at construction sites, as they agree on a lower wage, are more easily available and easier to keep track of.
Rakesh, a 10-year old child labourer working at HSR Layout, laying out tiles on the footpath, has been working for the past year on the daily wage system. He is not happy with the job as his schedule varies from 12-18 hours per day, and the pay is extremely low to compensate the effort.
He says – "I wasn't as lucky as the others to go to school and get educated. This is one of the ways in which my family survives. I am the second youngest in my family and like my older siblings, I also have to provide for my family and for my sisters, so that they can get married."
Children below the age of 18 are not permitted to be employed until all the regulations are followed, as mentioned by the law. The law states that no child shall be working more than five hours a day and not more than three hours a day without rest. It also says that the employer shall maintain a register of the children working and their details.
[media-credit id=45 align="alignleft" width="244″]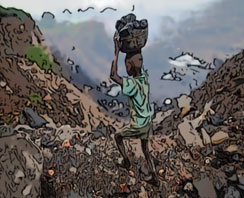 [/media-credit]
No child shall be working during school hours. Many labourers allege that road maintenance contractors have employed children below the legal age for the construction of footpaths and other road maintenance. They are paid on a daily wage basis of 400 rupees. According to the payments set by the Department of Labour in Karnataka, unskilled labour shall be paid a wage of 11,000 -13,000 rupees per month. But the wages received by the young labourers is only 9,000 rupees per month.
Keshwati Ujjal was born and brought up in Orissa and migrated to the city of Bangalore at the age of 12, with the help of her father who set her up to work as a full time maid for families. She believes, "Working as a helper to an old Christian couple in the city, I receive a small salary of Rs.5,000 per month, which I send to my family, who still reside in Orissa, my hometown. I am uneducated, but I continue to hope that I get to complete my education under better circumstances if I get the opportunity. The salary is definitely not enough for my family, and it is a struggle to make it day to day, but unlike other child labourers/helpers, I am treated well and I get meals for free."
Karnataka Government had come up with a plan of ridding all kinds of child labour back in 2002 but as of now, the plan remains only an idea in the Vidhan Soudha. In three years (2011-2013), the department found 428 violations, prosecuted 458 people, and convicted of jail time 117 who had wrongfully employ children, working at the age of 14 or less. According to the CCRB, Bangalore has been rated as the city with the highest rates of child labour. As per the guidelines followed by the Department of Labour, child-line services (1098, toll-free number) should be informed of the case if anyone gets hold of one. Non-profit organizations like Association for Promoting Social Action (APSA), Lovedale Foundation, Save the Children, UEM India and so on, also step up to battle with this impending issue.
Reference: The Child Labour Prohibition and Regulation Act, 1986 and the Child Labour (prohibition and regulation) rules, 1988