Drugs banned by the Ministry of Health and Family Welfare are still for sale in India.
Some 344 Fixed Dose Combination (FDC) medicines banned in India can still be purchased in Bangalore. Consumers should be aware of the banned FDC's illegal sales warn Pharmacy professionals.
Ordered by  the Supreme Court (SC), the Ministry of Health and Family Welfare has released a gazette notification giving a list of drugs that  have no therapeutic effect or can cause harm to human body and are prohibited for manufacturing, sale or distribution.
But some pharmacies and medical stores in Bangalore are selling FDC banned drugs. When asked for banned FDC Glimepride + Pioglitazone + Metformin FDC, the drug was available in one of the medical store near Kumbalgodu.
Most commonly used FDC Aceclofenac + Paracetamol is banned in the form of FDC Aceclofenac + Paracetamol + Rabeprazole. One of the consumers was given the banned drug under the name Dolostat Plus by a pharmacy near Jayanagar.
When this issue was raised with Amaresh Tumbagi, the Additional Drug Controller of Bangalore, he said that "As far as our report all the banned 344 FDC's  manufacturing and sale are prohibited. We said to all the pharmacies to return the batch that were already in their stock, but they asked for some time and we have extended it for more 15 days."
[media-credit id=47 align="alignleft" width="300″]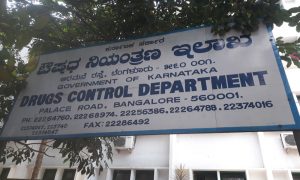 [/media-credit]
"But their extended 15 days time limit is now over; we had a meeting yesterday regarding the issue and will proceed for further action. The list of banned drugs is attached in our website" he added.
What is FDC?
"A Medicine combination with two or more active drugs in a single dosage form is called as FDC," said Dr. Vishalakshi, Assistant Professor of Pharmacotherapeutics at Chaitanya College of Pharmacy Education and Research (CCPER). "A product composed of any combination of a drug and a device or a biological product or a drug, device. Fixed ratio combinations are accepted only when they come under manufacturing regulations proposed by Pharmacy Council of India (PCI), Drug Technical Authority Board (DTAB) of India," she added.
"The banned FDC's do not show therapeutic effect or involves risk for human body. Drugs without therapeutic effect will not cure the health issues; it gives 'placebo effect' in which patient feels to be get cured by taking medicines, but therapeutically it shows zero effect. Moreover this banned FDC's shows drug toxicity and adverse effects." Said Gangula Sravani, Doctor of Pharmacy (Pharm.D) student.
"We as a Doctor of Pharmacy professional suggest to public that 'Before using medicines make sure that you are using right medication for the indication and don't believe in orthodox doctors," she added "In our hospital sessions we were taught about Drug indications, adverse effects for counseling patients. Patient counseling in hospitals about the usage of drugs will contribute to restoration and preservation of public health," said Sravani.