Karnataka emerges as the national leader in wind energy generation, but fails to implement it, allowing coal pollution to increase.
Karnataka has a capacity of 46 percent renewable energy (wind and solar) and has the highest number of wind energy installations, but still suffers from pollution and power issues. It is highly dependent on the thermal power sector for electricity and generates 49 percent of coal powered energy.
These coal-fired power plants affect the environment and cause air and water pollution in the city, which is linked to lung ailments, heart diseases, acid rain, etc.
Indian expert in energy finance Kashish Shah co-authored a report published by the Australian Institute for Energy Economics and Financial Analysis (IEEFA), an energy and environment analysis organisation, blames the thermal power sector for causing financial distress in the State, and encourages the newly-created State policies for the renewable energy generation.
[media-credit id=35 align="alignleft" width="288″]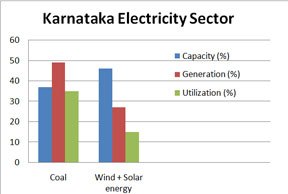 [/media-credit]
Tim Buckley, the director of energy finance studies at IEEFA states that Karnataka spends more than US$300m importing coal. The lack of in-state coal mining capacity results in moving the coal by interstate rail which further adds to the cost by US$31/tonne coal.  This coal-powered electricity is not only harmful to the environment but is also expensive to the government; several cities in the state face electrical power supply issues because of its high cost.
The wind energy has a tariff of Rs.3.45 per kilowatt hour (kWh) in Karnataka, while the coal-fired power has a tariff of Rs.5-6/kWh. The State has a good infrastructure of solar and wind energy plants, this can replace coal-fired power, with utilization of the sources at rates cheaper than the current coal-fired power.
The electricity market of Karnataka is dominated by coal-powered energy, with the capacity of 9.8GW (gigawatt) and is generated at 49 percent of the total generation by sources (gas, diesel, hydro, etc). The coal-powered energy is utilized domestically and commercially at the rate of 35 percent. Even though the renewable sources of energy (wind and solar) have a capacity of 12.3GW in the state, it is generated at a low rate of 27 percent and utilized over the state at a rate of only 15 percent.
According to the Karnataka Renewable Energy Development (KREDL), one wind turbine can generate 1.5 megawatt of electrical power and can provide electricity to 500 residential homes. IEEFA states that the electricity generation in Karnataka is a mix of fossil fuels and other sources but the State primarily depends on fossil fuels (coal, gas or diesel), which deplete the environment and are in limited quantity.