Veershaivas want the current committee looking into their "religious minority" status to be changed.
Bangalore, March 15, 2018: The Veerashaivas community have recommended the state government to form a new committee to look into their demand for religious minority status, stating that the present group appointed was 'single-sided'.
In December 2017, the Congress-led Karnataka government had formed a seven-member panel to decide upon the proposals, seeking the recognition of the Lingayat community as a 'religious minority."
The committee was headed by former Karnataka High Court judge Justice H N Nagmohan Das.
"What we have told the Chief Minister (CM) is that a proper committee of experts had not been formed. It is a single-sided committee. Since five members in the committee represent the Lingayats section, that report needs to be rejected," Dingaleshwara, a priest from Baalehosuru in Gadag, said, addressing the press after meeting with the Chief Minister on Thursday.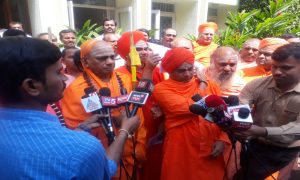 "If necessary, form a new committee and in that group, under the investigation of the Chief Minister, let them see the numbers. From both the existing and the new committee, two separate heads can be chosen. Let the government then take a call on who is most suitable," he added.
Dingaleshwara added the CM told him and others present that all the requests put forth by the Mata Mahadevi as well as the Lingayats had been taken into consideration, stating that he was concerned about their well-being.
He also said that report written by the experts committee was already presented to the government and no hasty conclusions would be made.
An Ujjaini priest also present at the meeting stated that the meet with the CM proved to be fruitful and wished no harm for the society.