Lack of streetlights makes traveling difficult for pedestrians in the Bommasandra Industrial Area.
Labourers find it difficult to walk in the Bommasandra Industrial Area (BIA) due to the lack of proper roads and street lights.
"Many people walk back every day to the main bus stand; there is no street light or footpath here. The night shift workers are afraid to walk back—there have been incidents of people attacking them in the night" said Shivu, an employee of AEON Pvt. Ltd.
The employees along with the support of owners have complained to the Bommasandra Industrial Association.
"We have raised the complaint to the higher officers in BIA, they said they will help us soon and provide better facilities," said Savitha a resident and employee of factory at BIA
Dayanand Reddy, President of BIA, said: "there is enough money sanctioned to develop this area, but the local government body here chooses to develop the villages around rather than the industrial area because they get their votes from the villages and not here."
Dayanand Reddy also stated that the complaints regarding road issues were brought to the notice of the City Municipal Corporation of Hebbagodi in a meeting that was held two weeks ago. "Yet, the CMC fails to address it," he said.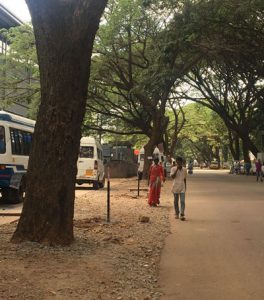 "The government has sanctioned Rs.25crores to develop the 30 wards surrounding Hebbagodi. Rs.10 crore for road development, Rs.10 crore for providing basic water facilities, and Rs.5crore for other purposes," said Thyagaraj, Assistant Executive Engineering of City Municipal Corporation, Hebbagodi.
Pankaj Yadav, Urbanist commented that having streetlights is very important as it helps the pedestrians and also would reduce accidents. He also stated, solar-powered street lights should be installed as it would save a lot of energy and can be installed within a month.
Girija Manjunath, President of CMC, Hebbagodi, has promised Bommasandra Industrial Association within a year's time, BIA would have better facilities and infrastructure."