The Bangalore Traffic Police never says die. It plans to install 60 new pelican signals even after the existing 52 have stopped working. The new signals cost Rs six lakh each.  The police are still working out the locations for these signals. The Additional Commissioner of Police (Traffic) R. Hitendra said, "we are still identifying the junctions in the city where the pelican signals will be installed."
Pelican signals are pedestrian-controlled crossings which enable pedestrians to manage traffic by pressing a small green button, placed on the traffic signal pole. They can press the green button to stop incoming traffic and cross comfortably.
People in Bangalore are happy with the idea of the Pelican signals, but are skeptical about the working of these signals.
Eshwar Kote, a resident of Jayanagar said, "our government comes with various innovative ideas but fails to implement them."
People who don't understand the use of these pelican signals might just end up creating more chaos and increase traffic congestion in the city, some might even play with it and damage the switches he added.
Abhishek Goyal, Deputy Commissioner of Police (DCP), East said,  the pelican signals were going to benefit the people. "We have identified certain areas where there is heavy traffic and are working towards improving it," said Goyal. He added that Iblur junction, JP Morgan junction and other areas near Outer Ring Road are generally prone to heavy traffic, and these pelican signals will improve the traffic conditions there and help pedestrians cross these junctions with ease. Many of the 52 pelican signals installed in the city in 2005 have stopped working.
Residents who used the signal at Banashankari near Ramakrishna Ashrama complain bitterly about it.
Nirup Gowda, a resident of Banashankari said, "People don't know how to operate these signals as there is no awareness about it. There is a green button, and people keep pressing it whenever they want to."
These pelican signals will only be of help if the police inform the people how to use them, he added.
The new signals will be installed near and around schools, markets, and IT parks to help people cross roads comfortably.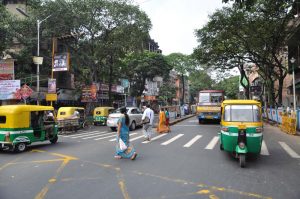 Shivkumar, (DCP West) said that new signals would be installed near Peenya, Iskon, Mahalakshmi Layout, Mysore Road and other places.
The lights are going to cost a pretty packet."The budget estimated for each signal will be about Rs five to six lakhs," said R Hitendra, Additional Commissioner of Police, and Traffic, He explained that the budget is based on factors such as the cost of digging up the road, installing electrical wires, providing UPS connection and solar power.
The police department is not sure how long will take to install the pelican signals and repair the existing ones.
The police department does not necessarily have to dig up roads for new pelican signals, said an urban planner, Pankaj Yadav. Instead, they can install pelican boards on existing traffic signals he added.