The Directorate of Collegiate Education (DCE) has distributed over 2,50,000 laptops and tablets in the last three years.
The free laptop/tablet distribution scheme in Karnataka continues to give free devices to college students.
"I received my tablet in 2021 from my college,'" said Hrishikesh Donajamaeth, an alumnus of Sri Jayachamarajendra (SJ) Polytechnic College. "Not only me, but there must be around 5000 students in my college who received the tablet as well." The college authorities had shared a Google form for the students to apply for the free tablet.
The practice of laptop distribution was started in Karnataka by the then Chief Minister Siddaramaiah before the Assembly elections in 2018. The following year, after the election, the new state government decided to give free devices to the students of the 2019-20 batch.
The Free Laptop scheme was an initiative to promote digital education. Students, who perform well in their class 12 examinations but cannot afford the tools for technical education, can benefit from this scheme.
Initially, the scheme was supposed to give laptops to eligible students but then it was changed to tablets. "We have switched to tablets from laptops because of expenses. One laptop costs around Rs. 28,000 while a tablet costs around Rs. 10,500," said Nandita Prasad, Informatics Officer at the Directorate of Collegiate Education (DCE). "The devices are given to every applicant from government degree colleges."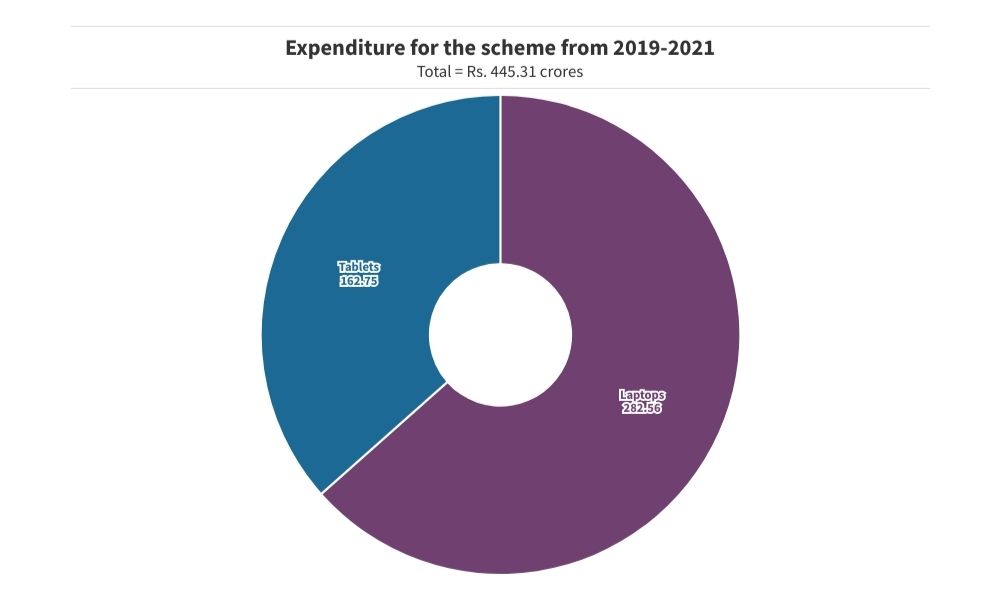 But the application for this scheme is not open or known to everyone. A student of the University of Visvesvaraya College of Engineering had never heard of the free laptop scheme. She said, "We never received any notice from the college. There must be some criteria that I do not fulfil."
The scheme was launched with the aim of reaching out to around 1.09 lakh students in their first year in government colleges belonging to Scheduled Caste or Scheduled Tribe communities.
"Digital proficiency is very important in education right now. Such schemes help students who do not possess the purchasing power for infrastructure," says Professor R. Rajesh, Department of Sociology at Bangalore University. "Computers used to belong to the elite class, but now the same coding is brought down to the level of a 12-year-old. The government is doing a good job of providing basic infrastructure", he added.
Siddesh A T, another alumnus of SJ Polytechnic College said, "The tablet is useful because I can access the Karnataka Learning Management System (LMS). Additionally, it is of good quality as well." He had received a Samsung Galaxy Tab A8 with 2GB internal and 32 GB external storage.
Karnataka LMS is an online learning platform for higher education in Karnataka. Both teachers and students can use this app to access learning modules, video lectures and so on.