In an exclusive chat with the Indian Institute of Journalism and New Media, Grand Slam champion Rohan Bopanna talks about sponsorship problems that tennis players in India grapple with.
Tennis players in India continue to struggle due to costly worldwide travelling for tournaments, coaching, physiotherapy, and dietary needs. There is no sponsorship from the government and private sponsors don't stay for long.
Rohan Bopanna, winner of mixed-doubles at the French Open 2017, said, "I don't have a sponsor till date. I climbed up the ladder all by myself without any sponsor." He mentioned that, unlike hockey and cricket, tennis in India has always lacked a structure, due to which a lot of athletes quit the game. He said that the government has plans that could benefit these players but lacks proper implementation. He also mentioned the need for more academies ready to sponsor and provide scholarships to budding tennis players. He emphasized on the need for more tournaments in India.
"Players have to keep travelling around the world for tournaments to keep moving up in the rankings. Traveling is the most expensive part followed by accommodation," said, Vaidehee Chaudhari, ranked seven in India and 970 in the world tennis rankings and one of the participants in the ongoing KSLTA-ITF World Tennis tournament.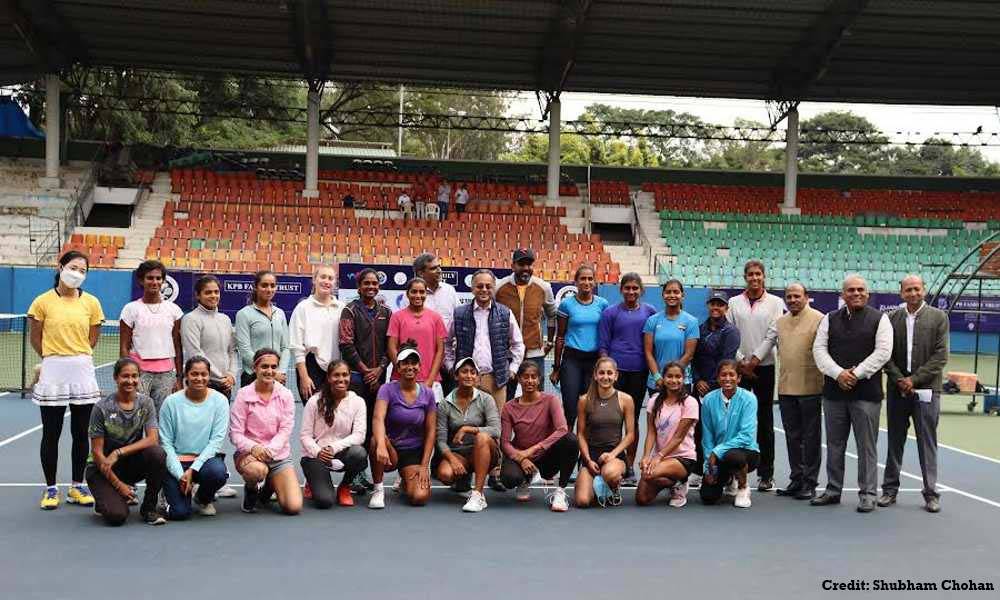 She said that she was sponsored by the Sports Authority of Gujarat but for the past two years, she isn't getting any aid from them. "I went to Tunisia a couple of weeks ago for another tournament, and it cost me Rs. 3 lakh for the trip. I come from a middle-class family, and it is too much for my parents to bear these expenses," she said.
Mihika, ranked number ten in India and 950 in the world, said that foundations like Virat Kohli Foundation, only take two-three players per sport. "It is difficult to get in foundations like these due to heavy competition," she said. "Only three Indian tennis athletes are fully sponsored right now and a lot of us, despite performing exceptionally, don't have any sponsors," she added.
Himani, the mother of one of the players participating in the KSLTA-ITF World Tennis Tournament for Women, said that her daughter is ranked number two in Maharashtra and she neither got assistance from the government nor private agencies. Aside from that, the number of tournaments hosted in India for girls is lower than for boys, requiring them to travel all over the world to improve their standing.
Abhishek Mukherjee, International Tennis Federation (ITF) supervisor, said, "It is one of the biggest challenges for Indian tennis players and I would like to appeal to the government and private agencies to sponsor the deserving talent." He said that the ITF has a special fund that it uses to sponsor budding tennis players around the world. "Tennis players around the world have suffered a big blow with regards to their rankings in due to the pandemic. A lot of them left the game in the past two years due to fewer tournaments and expensive travel to other countries," he said.
The players from Canada and China are sponsored by their governments, from supplying them with coaches and physiotherapy to covering their travel and lodging expenses. Till date, Australia has 54 singles Grand Slam titles, the United States of America has 93, the United Kingdom has 38, China and Canada each have one singles Grand Slam champion, and India has none.