The illegal trade has increased by 300 percent after the pandemic; pushing the species to extinction, experts say.
Bengaluru: The illegal trade of highly elusive pangolin mammals shot up after the coronavirus pandemic, an Ashoka Trust for Research in Ecology and the Environment (ATREE) report states. There has been a 300 percent increase in the trade, Vikram Aditya, a researcher said.
Lack of awareness is pushing the species to extinction, he . To add to it, a lack of census makes it difficult for researchers to track the mammal's movements.
Between January 2018 and August 2020, Vikram and his team recorded more than 117 pangolin seizures. When only eight cases were reported between March and August in 2018, the number shot up to 29 for the same duration in 2020. More than 6000 pangolins were traded between 2009 and 2017, a TRAFFIC study found.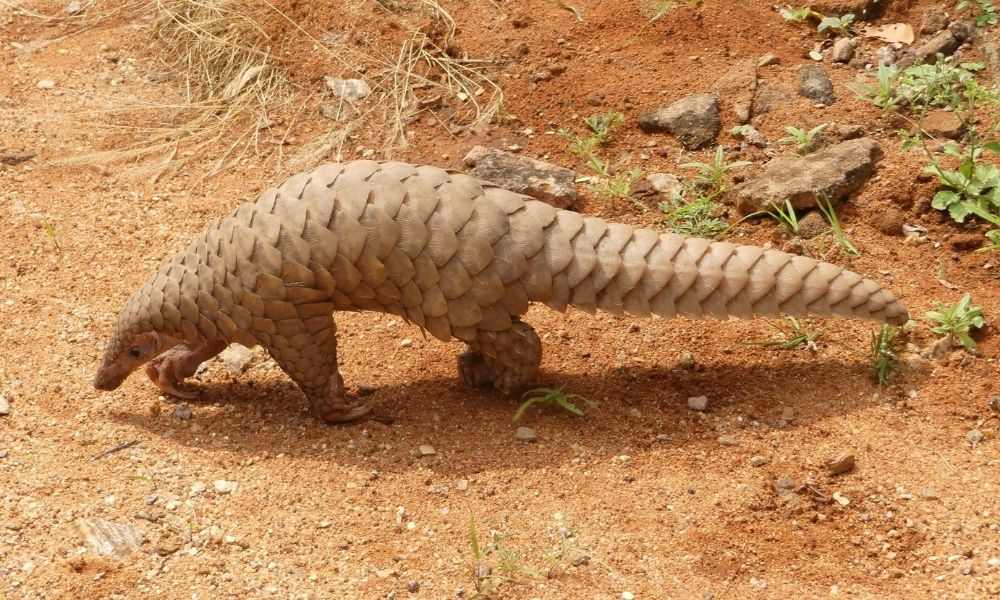 District Crime Record Bureau, Deputy Superintendent of Police, Davanagere, B.S. Basavaraju recently busted a racket of pangolin scale poaching on Shivamogga road, Davanagere District. He seized 67 kg of pangolin scales from a dhaba and arrested 18 people. Considering scales from one pangolin weigh 467 grams, at least 134 pangolins would have been killed for their scales.
He said, "Lack of awareness among tribal communities leads to hunting and collection of the pangolins. The scales are passed on to the middlemen who come from other states to buy them. One kilogram of scales can cost as much as Rs. 10,000.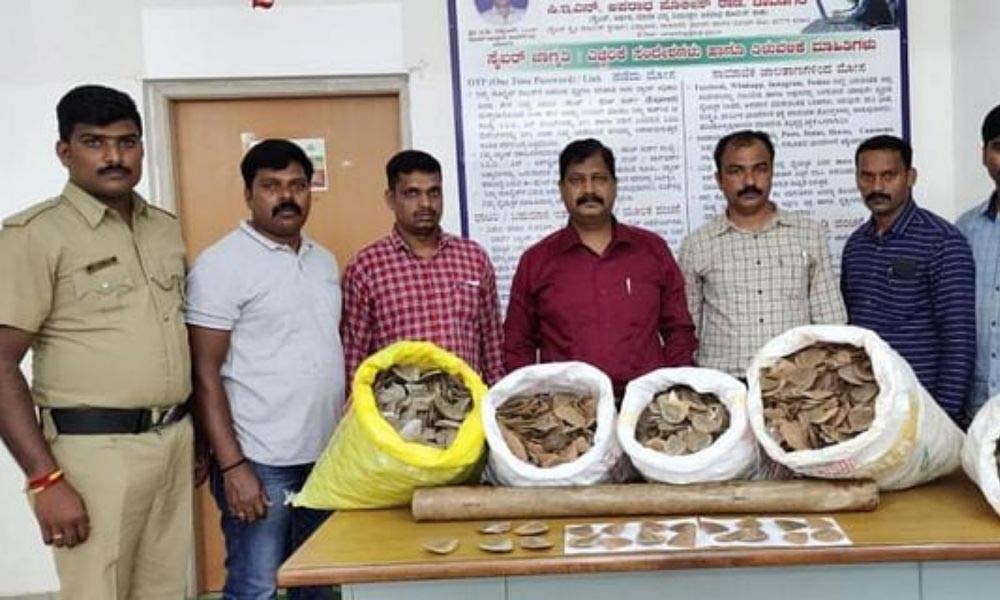 "Our sources say, the scales are then turned into medicines and reach the international border at Nepal or China. If this continues, we will see the extinction of the species," he added.
Vikram said during the lockdown, the movement had decreased and many police and forest officials were not alert in their duties due to the COVID-19 pandemic.
His study concluded that the spike in hunting and trade of pangolins across India during the COVID-19 pandemic has affected their population that was already being devastated by human hunting and habitat degradation.
Arun, First Division Assistant, Wildlife, has worked on multiple operations in tracking and nabbing the pangolin poachers. He said the crime rate is high in Karnataka and Andhra Pradesh, among other states in India. Poor tribal people come into the racket to earn money and help raise their families, he added.
Sanjay*, a Meghalaya resident, used to be a pangolin trader until last year. "It was easy money," he said. "I used to sell one kilogram of pangolin scales for more than Rs. 30,000. After I came to know pangolin trade was illegal, I left the trade," he added.
Sumanth Madhav, a conservationist at Humane Society India, has been working with pangolins for the last five years. He said the ease at which the pangolin scales can be transported is a huge contributing factor to poaching.
"A good size of ivory or tiger skin is a difficult thing to transfer, but not the pangolin scales. The scales do not get flagged at the airport scanners, making it easy to export," he added. 
Sumanth believes that a lack of studies on pangolins and their census in India also makes them more vulnerable to exploitation. "It is a big gap in science, and very few people are working on it," he said.
Nagaraj, Deputy Range Forest Officer, Karnataka, said despite setting up camera traps and other equipment, they have failed to track the movement of pangolins. He said the camera traps are set up in smaller areas, and pangolins are shy creatures. A live pangolin is a rare sighting, he added.
"The enforcement and awareness should go hand in hand. The police and forest officials are working closely to reduce the rate of pangolin poaching in the state," Kumar Pushkar, Assistant Principal Chief Conservator of Forest, Wildlife, and Karnataka said.
Colonel Nawaz Shariff, Ex-DIG of Police, and a veterinarian pointed out that states like Tamil Nadu have constituted a separate team with sniffer dogs to catch the poachers.
Indian pangolins are listed in Schedule I of the Wildlife (Protection) Act, 1971. Any hunting and, trading of the species or their body parts are banned. But the crime rate continues to increase, he said.
"The Karnataka government needs to increase its effort to bring the situation under control. Hiring more informers and stepping up on cybercrime can be the only solution," he added.