As the numbers of Covid-19 cases are dropping in the city, people are not wearing masks, nor are they maintaining social distance.
Hardly any teams of marshals, home guards, and police were seen at Commercial Street in Bengaluru to keep an eye on people violating covid norms.
Bengaluru city saw a steady fall in Covid-19 cases during September and October 2021. The Covid-19 cases from September 30 to October 6 were 1,400, which dropped to 1,062 cases during the succeeding week from October 7 to October 13.
In August, Bruhat Bengaluru Mahanagara Palike (BBMP) Chief Commissioner said, 50 teams of marshals and home guards will be deployed in the city to enforce Covid norms and will penalize people violating them. From July 7 to July 11, Bengaluru registered 3,516 Covid -19 cases, which dropped to 2,244 by the end of Aug.
Mohammed Afridi, a garment shop owner in Commercial Street, said, "Police come in the night to patrol the area otherwise there are no marshals or police coming in the day time to check whether people are following Covid norms or not. Out of five people only three people wear mask and rest two of them don't wear it. Parents with their children are hardly seen wearing mask over here."
Dr. B.K. Vijendra, Chief Health Officer (Public Health) BBMP said, "Police and marshals are monitoring the city to stop the spread of the virus. The number of Covid-19 cases has gone down just because the city is under strict vigilance. And Chief Marshal Colonel Rajbir Singh has been tasked with leading the team of marshals, who would keep a check on crowded places like markets, marriage halls to prevent people from violating Covid norms."
Akram Jalal, a bag shop owner in a commercial street in Bengaluru said, "Police and home guards used to visit the market place in the initial months of 2021, but after that rarely any policemen can be seen scrutinizing the area."
Chief Marshall heading the Marshall team, said, "Twenty seven marshals teams work on the morning shift and rest 27 teams work on the evening shift. People who are not wearing a mask and not maintaining social distance are penalized. From May 2020 to October 2021, they fined almost 800 to 900 people every day for not wearing a mask and not maintaining social distance."
He added, "Bengaluru has 198 wards, and it is not possible to keep a check on each ward every time. People caught violating covid norms are mostly the locals. Especially in open shops and markets, people are without the mask."
In Sept. 2021, 24,835 cases were registered for not wearing mask and for not maintaining social distance in Bengaluru, which came down to 18,236 cases till Oct. 25, 2021.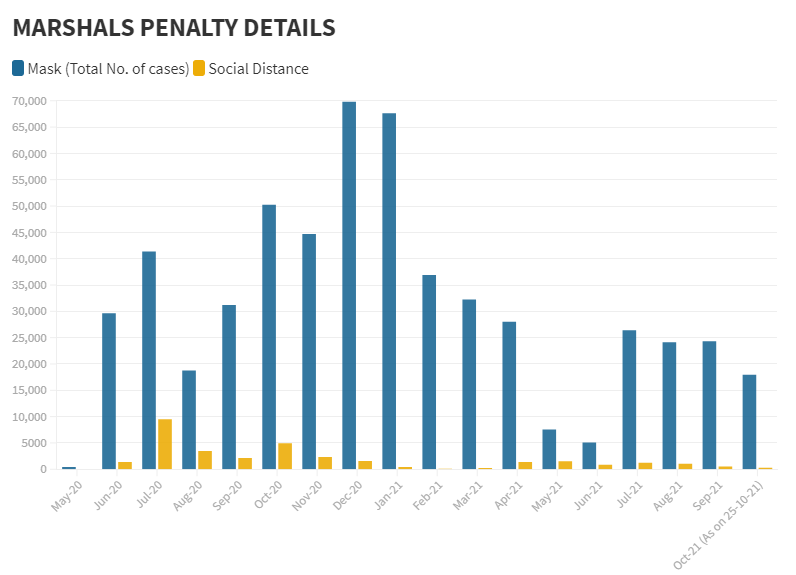 Pooja K. a buyer in Commercial Street in Bengaluru said that, since the Covid-19 cases have gone down, it's not mandatory to wear a mask every time and as Bengaluru has vaccinated more than 70 percent, so the virus is unlikely to spread to all.
T S Ramesh, spokesperson from Indian Institute of Public Health said, "Instead of focusing on Covid standards, police or marshals should focus on ensuring hygiene. Even now, people are not aware of hygiene and spit on the road. The police must keep an eye on it and penalize those who contribute to the city's uncleanliness. People should continue to practice social distancing, sanitizing, washing their hands, and wearing masks to avoid becoming infected with any virus."