Physically-challenged children have been left without play spaces due to lack of disabled-friendly infrastructure in city parks.
Disabled children are shut out of play grounds in the city due to lack of inclusive infrastructure such as ramps and handrails. The government is yet to build these spaces as recommended in the Bengaluru Smart City proposal.
"There are no ramps in most of the play grounds in the city and we always have to search for thousand options," said Manjula, parent of a child who suffers from Spastic Cerebral Palsy. "My son finds it difficult to move out and I cannot take him anywhere if I do not have help. People on the road also refuse to help me," she added. As most of the parks are not accessible, socialization becomes difficult for such children. "He needs some friends of his own age group, which is missing for him right now," she said.
The Bruhat Bengaluru Mahanagara Palike (BBMP) had collaborated with Kilikili non-government organization (NGO) in 2006 to build inclusive public play spaces which are disabled-friendly in the city. Coles Park in Frazer Town, Gayatri Devi Park in Rajajinagar and M.N. KrishnaRao Park in Basavanagudi were the three parks they built. The NGO set several guidelines for BBMP to follow, including building specific paths for wheelchair access and non-slippery pavements.
However, they are not being maintained properly by the city authorities, said Kavita Krishnamoorthy, founder of Kilikili NGO. "Coles Park has been damaged for a while now. The other two parks are somewhat usable," she said. Initially, the BBMP cooperated with the process while setting up the parks but a lot of follow-ups were required at implementation level, she added.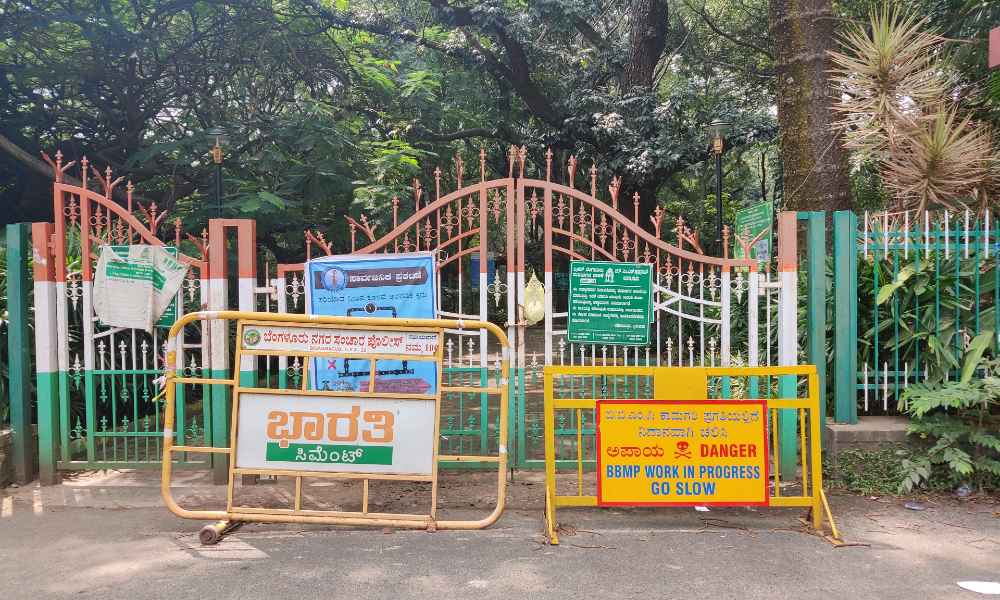 The Bengaluru Smart City proposal also encourages Municipal Corporations to build inclusive public places in the city. Additionally, the Rights of Persons with Disabilities Act, 2016 states that government should ensure equal participation of children with disabilities in play and sporting activitiesand should redesign sports infrastructure with their needs in mind.
However, the number of inclusive parks in the city are not enough, said Krishnamoorthy. "Children with disabilities do not have a place to play which is just not acceptable," said a parent of a special child. "Such inclusive spaces are needed so that children with disabilities can see other children and learn to be and play along with them," she added.
A lack of social support from society which prevents special children and parents from visiting parks that are not inclusive. "When there is isolation and ridicule from others, even if there is a facility available, parents will find it difficult to send their children to use it," she said. Social stigma prevents children from going out.
A change in mindset is needed, said Vaishali Pal from Tamahar Centre for children with developmental disability. "All wrong notions about how some people don't fit into our so-called notion of 'normal' needs to be changed," she said. The government needs to carry out awareness campaigns, learn what disability is and how to embrace it and then make physical changesso that the disabled community can participate independently, she added.
Additionally, physical activity is necessary for children with physical disabilities, according to a study by the National Library of Medicine. Improvements in aerobic capacity, improved gross motor function and high levels of participant/parent satisfaction are some of the health benefits derived from participation in playing activities, the report said.
"Cities need to make changes in their infrastructure to make them accessible and inclusive," said Victor from Samarthanam Trust for the Disabled. "Some specific arrangements must be made such as ramps at the staircases, removal of cattle traps at the entrance, entrance should be accessible with adequate width and plain spaces without any obstacles, play materials should be designed according to the specific needs of different category of children with disabilities," he added.
Krishnamoorthy said that over the last five to six years, Kililkili NGO has stopped working in Bangalore. However, the BBMP has submitted a proposal to Smart City asking for a separate wing or division for special children in Cubbon Park, said Prabhakar, Chief Engineer of BBMP South. "There is no deadline for completion as it is still in planning stage," he added.