Mysuru district administration, to avoid crowding, has asked all vegetable and fruit vendors to get push carts if they have to sell at open marketplaces.
Mysuru: Tayamma has wonderfully arranged brinjals, carrots, tomatoes and capsicums on a push-cart. However, her face, tattooed with wrinkles, does not reflect the emotion involved in doing so. "It has been made mandatory for us to get Tallo Gaadi (pushcarts), otherwise we are not allowed to sell vegetables. Every day we have to pay a rent of Rs. 30 for the pushcarts, or we have to buy them, which is even more expensive. It's an added expense at this time, it's been 20 days. How are we supposed to manage?" Tayamma, almost on the verge of tears, asked.
To avoid crowding at marketplaces, the Mysuru district administration has made it mandatory for vendors to use push-carts. Nanjumalige market, albeit not as big as the Devaraja Market near Chikkagadiyara, is usually crowded with people making a beeline to buy vegetables, fruits and flowers every morning.
Manjula, another seller about 10 feet away from Tayamma, looked tired and weary at eight in the morning. "Rules say that we have to get pushcarts, and we are allowed to go across the city after 10 a.m. to sell these greens and vegetables on the carts. But it's not as easy as it sounds," she said.
For women like Manjula and Tayamma, who are sole breadwinners in their families, it's not easy to push these carts across the city, wearing masks in the mid-morning sun. "The cart is heavy. It looks easy, but it is not easy to push them," Manjula and Tayamma said.
The Karnataka government has provided a window between 6 a.m. and 10 a.m. to sell vegetables, fruits and all essential commodities.
While Nanjumalige street was bustling with people at 8:15 a.m Lalitha P, a home guard deputed by the administration for Covid-19 duty sat under a tree looking over everything. "Yes, we instructed all the vendors to get pushcarts as mandated by the administration to avoid crowding. I know it's expensive for them, but is it more expensive than their lives?" she asked, hesitantly.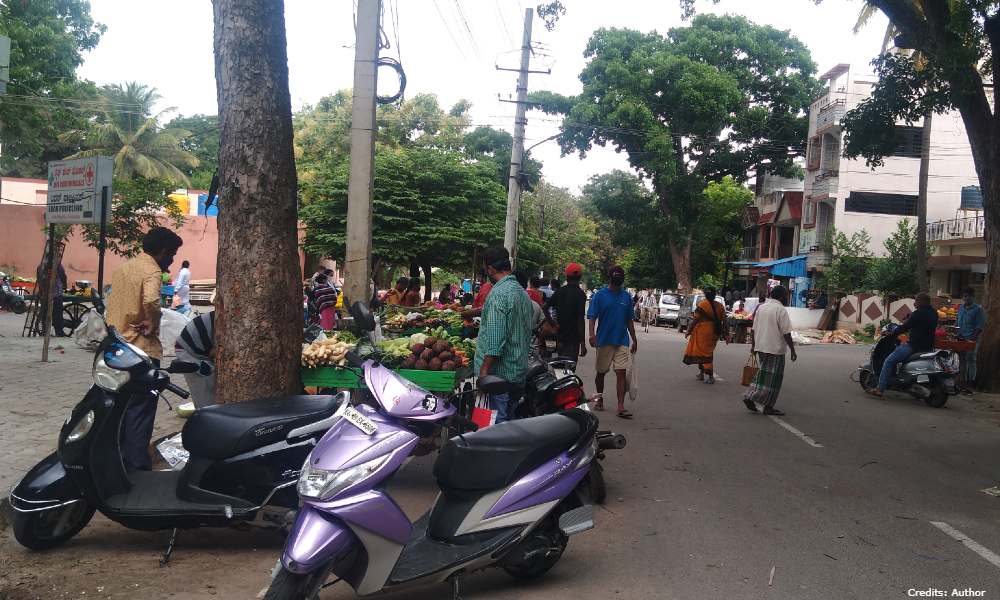 It's five to nine in the morning on the Dufferin Clock Tower, locally known as Chikka Gadiyara, as it stands majestically in the centre, bereft of the crowd that thronged the place once. Umesh, who rents push-carts to vendors, sat amidst the rally of carts near the Gadiyara, smoking a beedi. "Yes, sales have gone up in the last 20 days. Before, not more than five push carts were taken on rent, and suddenly the demand has risen, and we have already given around 60-70 of them," he said.
Chaluvegowda, professor of economics, in SBRR Mahajana First Grade College in Mysuru, said that push carts have become inevitable. "The act of social distancing is a major failure – people crowd everywhere, be it vaccination centres or vegetable markets. That's why the government has resorted to this," he said.
He added that despite push-carts being an added expense for vendors, the situation can be handled in two ways. "One, the government has to pay a one-time compensation for all vendors, and two, privileged people should come forward and voluntarily donate items like pushcarts to keep the economy running," Chaluvegowda suggested.