Shopkeepers say the market somehow got back on its feet early this year, but the new wave of the pandemic is likely to paralyze it again.
Rourkela: With schools remaining closed for more than a year, the school-shoe business has hit rock-bottom. 
Rameez Alam, owner of Alishaan Shoes said, "During the beginning of the academic year, my shop used to be filled with parents buying school shoes for their children. Now, pandemic and lockdown have completely ruined the market."
"With schools remaining shut, there is no need to buy new shoes," said Bina Maharana, mother of two. "Moreover, I had bought new shoes for my son before the nationwide lockdown was imposed. He couldn't even wear them for long enough and now he has outgrown them too."
Rameez used to sell around 200 to 300 pairs of shoes during the first month of every academic year before the pandemic. "But during the last academic year, not even 10 pairs were sold," he said. It is not even one percent of what he used to sell during the pre-pandemic era.
The stock (shoes) he purchased, before the central government imposed the nation-wide lockdown last year, is still kept on display. "Even if I sell those shoes at a discounted price, no customer will buy it."
The Central Leather Research Institute (CLRI) report shows that footwear consumption in Asia was expected to be reduced by 20 percent or 2.4 billion pairs in the year 2020.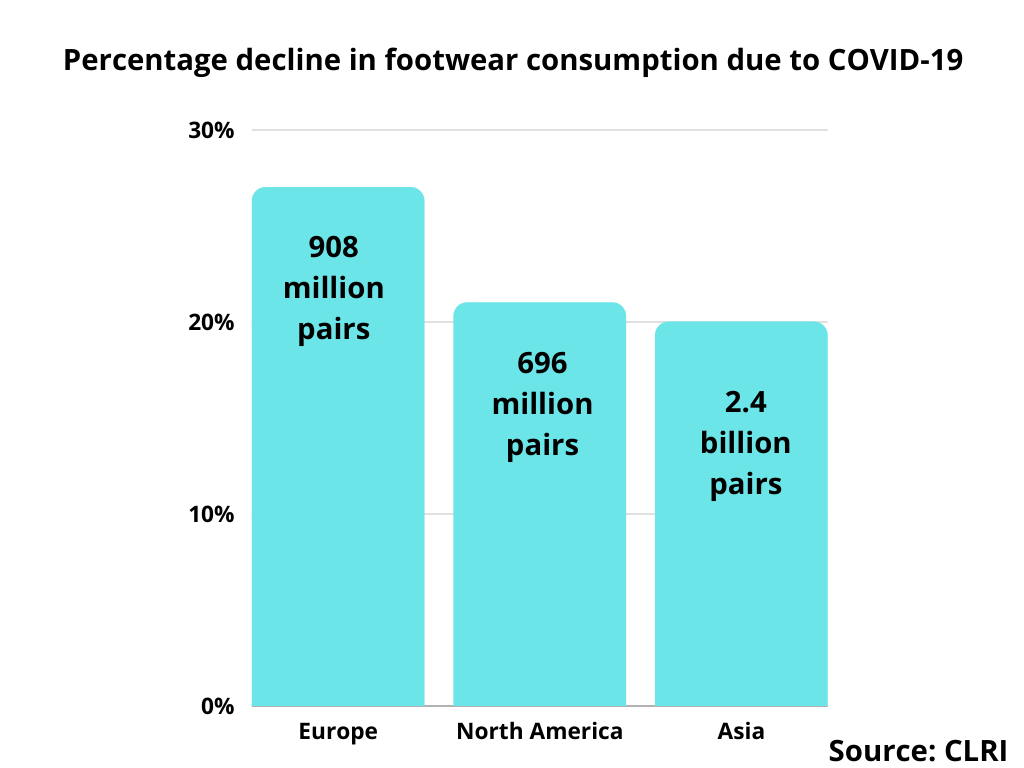 Vishal Kumar Pandey, who runs a branded shoe outlet at Cross Road Mall, said that sales of school shoes have reduced to zero since last academic year due to the pandemic. He said that in 2019, he had a turnover of Rs. one lakh of school shoes, but last year it was only Rs. 5,000 when classes for grades 9th to 12th resumed for some time.
Sales of school shoes accounted for 30 percent of his total sales. His overall business has come down to 70 percent compared to what he used to make in 2019. His business had a turnover of Rs. one crore in 2019.
He said the stock he purchased last year have been on display but there is no customer to buy them.
For other footwear as well, the sales have become limited. "Due to the lockdown and work-from-home culture, customers are buying very limited items," Alam said.
The new two-week lockdown imposed by the Odisha government has come around the peak of marriage season.
Alam said, "We don't know whether this lockdown will continue to stay after two weeks. The month of May is the peak season of marriage, but with this lockdown, there won't be any marriages and thus, the business will remain zero."
Rajeeb Agarwal, a retired professor from Vedvyas College, Rourkela said, "It is not possible to make the economy sound as of now. Parents are not willing to send their children to school because of the virus. Hence, they will not purchase school shoes."
He said that shopkeepers should change their nature of business. "The current trend is flip-flops and slide-in slippers. Instead of focusing on school shoes or any formal shoes, shopkeepers should promote casual footwear even more.."