Small scale industries in Peenya have incurred financial losses due to the lockdown and are now reeling from its effects. 
Bengaluru: Small-scale industries in the Peenya Industrial area have suffered financial losses due to the pandemic and subsequent lockdown.
TC Joseph, proprietor of Pneudraulics said, "In June and July the profit was only 50 percent of what it was before pandemic, now the employees have left too. I had 27 employees before the lockdown in March, now it is just 13, so the production levels have also gone down." He added that Rs. three lakh to Rs. four lakh worth of orders have not been collected by the clients which has driven the business into further trouble.
"It has become difficult to even pay the employees their salary. I am planning to sell the business", he said. The proprietors also had to pay salaries or half salaries during the lockdown which further drove the business into financial losses.
Venkatesh V., proprietor of Auto Enterprises said, "The orders have been reduced to 70 percent of what it was before the lockdown, the workers have left their job, I had 18 employees before, but now I only have eight . But, slowly the orders are coming in now." He added that he paid his employees their salaries during the lockdown despite the factory being completely shut.
"The contract employees have been removed from the factory and I was paid 40 per cent of my salary during the lockdown," said Channegowda, an operator at Sunlight Machine Tools. He explained that the running hours of machines has reduced to 12 hours, which used to be 20 hours before the lockdown. The orders from clients have been reduced by 20 percent of what it was before lockdown.
VK Venkata Swamy, proprietor of VG Industries said, "During the 48 days of Lockdown I incurred losses of almost 4 lakhs and I paid my employee's salary out of my own savings. He further said that in May, after the lockdown was lifted, the profit was only 30 percent of what it was before and now the orders are coming in and business is slowly picking up momentum.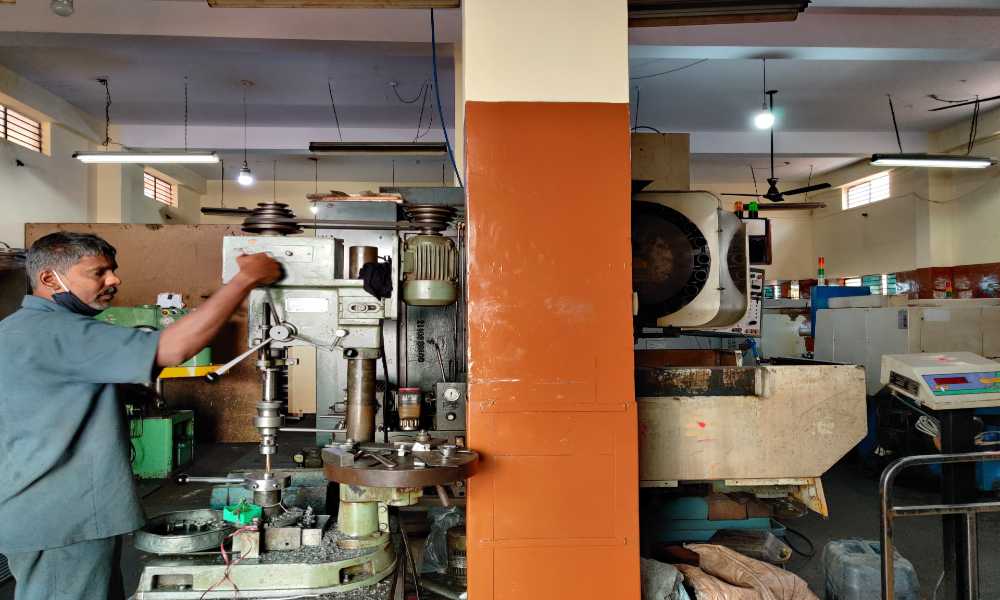 HS Sreenath, Manager of Peenya Industries Association said, "Seventy to 80 percent of the grievances we have received from the owners in these past few months is that they don't have employees, which has reduced the production." He explained that this has in turn resulted in a lack of funds to run the industries, and many fear it being shut down. He added, "Some owners had to remove their employees because of lack of funds and production, and some left on their own which in turn caused low output and production."
Chaluvegowda, professor of Economics at Maharaja First Grade College said, "Even though they are called small scale industries, they are one of the biggest contributors to the economy and employment generators. Both owners and employees have incurred major losses due to the pandemic and the industries have been majorly hit, but the government didn't come to their aid. It may take at least a year for these industries to recover."
Sreenivas T, an employee at Auto Enterprises said, "The orders have become less and hence the production. If this continues, we won't get to work overtime (OT) and it will decrease my personal income."
Peenya is a hub of small and medium enterprises with over 5000 to10,000 enterprises. The business had slowed down last year too.