The only skin bank in the city is witnessing discrepancy in demand and supply of the allograft skin.
By Manasvi Gupta
Bengaluru: Her face and body were burning, skin was melting like plastic, yet the acid attack survivor underwent seven surgeries and stood up against the social stigma, in a bollywood movie. Although she survived major burns not everyone is lucky enough to get timely treatment.
Bengaluru's only skin bank, in Victoria Hospital, witnessed a 48.5 percent reduction in skin donations since 2018. The skin bank records show that in 2018, 33 people donated their skin. However, their number fell to just 17 in a year, thus raising alarms about the disparity in demand and supply of the allograft skin required to treat burn victims. 
Since its establishment in the city in March 2016, the bank received skin from a total of 108 donors, while it used it for grafting in 93 beneficiaries.
Although the donors outnumber the beneficiaries, Dr. Nagaraj BN, the in-charge of the skin bank revealed that the amount of skin available, however, still isn't able to cater to the growing demand.
Dr. Prasanna KS, the team head of the skin bank said, "Demand is increasing, while the supply is very less. Although the donors are more, yet the skin harvested from them is not enough, as sometimes skin from 2-3 donors is required for the treatment of a single burn patient."
Dr. Nagaraj added, "People may fill pledge forms for their own satisfaction, but the number of actual donors remain insignificant.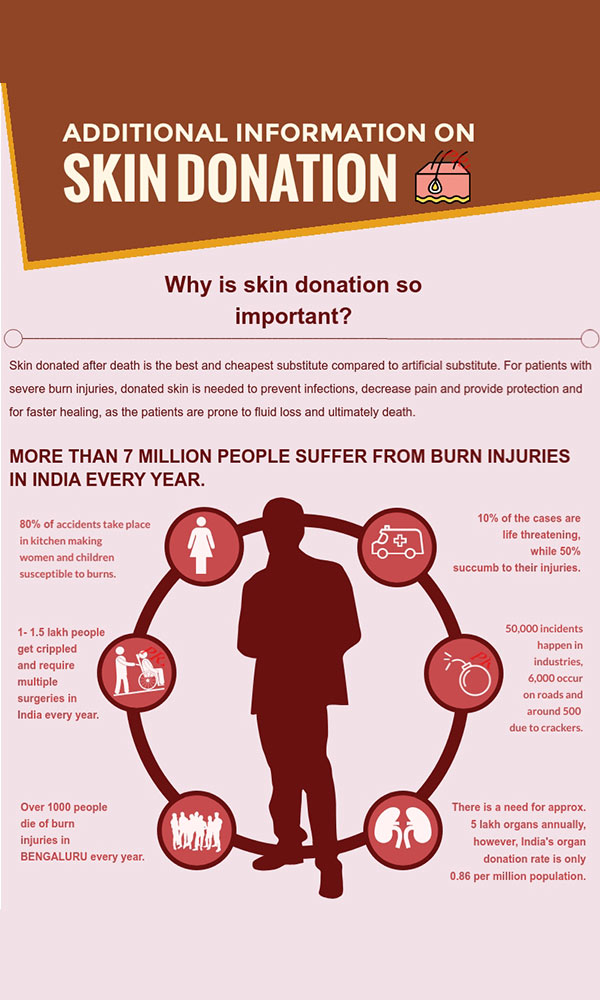 The skin is removed from the back, abdomen, and legs. Only 0.4-0.6 millimetre of the uppermost layer of the skin is harvested, causing no bleeding.
"Since cadaver skin is harvested only from inner thighs and legs, while some of it is discarded due to other reasons; so the total harvested quantity of skin comes out to be a handful", Dr. Prasanna added.
The records show that of the 1, 29,767 square centimeter skin harvested since 2016, 5,801 square centimeters was discarded due to various reasons, which include low quality of skin graft or damaging of skin tissue.
The in-charge further revealed, "Skin is harvested primarily for burn purposes only. Since it is already insufficient for the burn patients, we hardly ever use it for cosmetic purposes".
"Anyone over 18- years of age, without a skin disease or infection is eligible to donate. Patients with both minor and major burns have been benefitted from these banks.
Although the skin harvesting takes hardly 45 minutes, yet people are afraid to donate it", Dr. KT Ramesh, HoD of plastic surgery at Bangalore Medical College and Research Institute (BMCRI), explained.
Dr. Nagaraj said, "To spread awareness, we use our mobile services and go to campaigns organized by various NGOs, schools, and government counseling programs as well".
Preethi S. Krishna, who has pledged to donate her skin and eyes, said that volunteering at a hospital made her realize the importance of organ donations—especially skin.
The 38- year old Preethi said, "People are aware of the plight of various acid attack and other burn victims and pay condolences to them, but no one is ready to take the initiative of donating skin, mainly because of various superstitions prevalent."
"People think the skin would be stripped out of the body causing disfigurement. Also, they believe that a person is born skinless in the afterlife if one is cremated or buried without a skin." she added.
With around 15 skin banks spread across the country, over 1.4 lakh people die of burns every year. The glooming state of skin banks is similar throughout India.