Traffic Signal jumping cases have risen by 45 percent in the first ten months of 2019 as compared to last year
By Labani Mahanandy
The number of cases registered for traffic signal jumping has shot up in 2019.Traffic Management Centre data shows in 2019 till October, 9,23,468 cases were registered for traffic signal jumping as compared to 6,36,825 last year.
The Traffic Management Centre and the Bangalore Traffic Police told The Softcopy that fine for traffic signal jumping offence is kept Rs. 100 despite the increase in fine amount. The revised fine according to the Motor Vehicle Act 1958 is Rs. 1000.
Sub- Inspector of Bangalore Traffic Police MS Prakash said, "Red Light Violation Detection System (RLVD) is used to monitor signal jumping offences. Before we used to fine them Rs. 100 but after the new Motor Vehicle Amendment Act the fine amount has increased."
Chandrashekhara, who was fined for the offence in Banashakari, says, "I was in a hurry so I could not wait for the signal lights to change. It takes forever."
Till August 2019, Bangalore Police collected a fine amount of Rs. 9.23 crore as compared to Rs. 6.36 crore last year. Manjunath, sub-inspector, Traffic Management Centre says, "Cases of traffic signal jumping has rose this year. We are trying to control the violations but the traffic condition is worsening."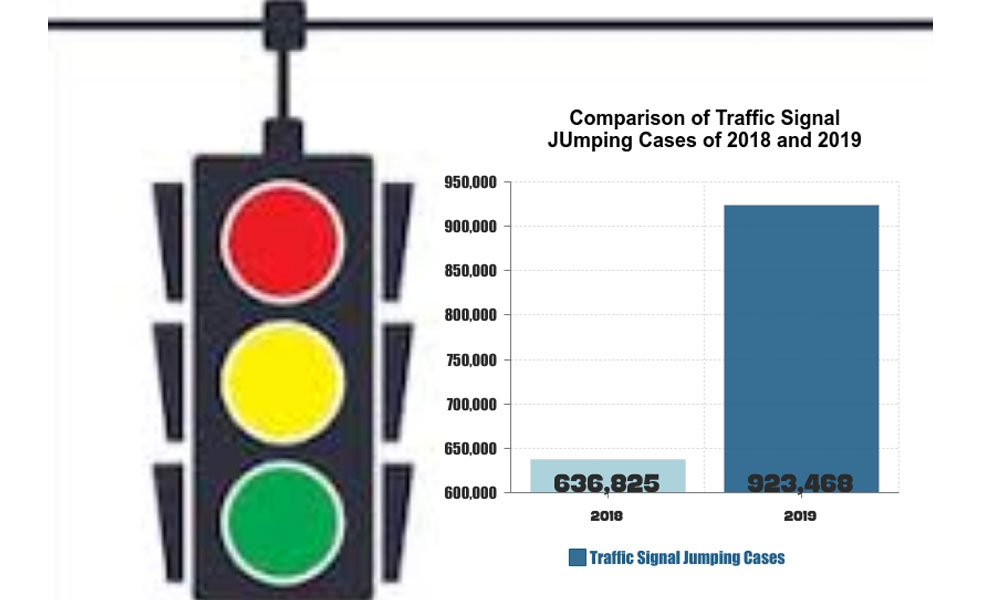 An auto-driver in Mysore road, Jalapathi told The Softcopy, "There is no other way you can manage time. I cannot wait on the signal if it is an emergency. I have jumped signals but I have never been caught or fined."
Traffic expert, M N Sreehari said that the traffic rules should be stricter for the people committing the same offence several times. "People get impatient due to traffic jam. They can't even wait for the traffic signal to change. They do not understand that this leads to maximum number of accidents," he added.