Degradation of quality of water, as run offs from nearby car washes choke Kengeri lake.
Riddhiman Roy
Smalltime car washes around Kengeri lake fail to treat the liquid runoff from their washing centres. This run-off seeps into the nearby water bodies, degrading and harming the quality of the lake water.
Car washes generally use a combination of water, oil and detergent for washing. Oil and detergent are extremely harmful for the quality of water and for the micro-organisms inhabiting it. Although big-business car washes can afford to install expensive but eco friendly waste-water-treatment plants, small time businesses fail to treat their run-off.
"Sir, first I want to think about filling my stomach, then, I might think about providing clean water for quenching of other's thirst", says M. Sivaram, the owner of a local Kengeri car wash. M. Sivaram, due to a lack of funds, is forced to work in his own car-wash and not hire labourers.
The mixture of oil, water and detergent, although cheap, pollutes the water of the lake it runs into. Oil does not mix with water and forms a thick sludge over its surface. This is catastrophic to the local aquatic life, and also to the birds and street dogs drinking from these water bodies.  Detergent on the other hand contains phosphate, which can lead to freshwater algal blooms that release toxins and deplete oxygen in waterways. When the algae decompose, they use up the oxygen available for aquatic life.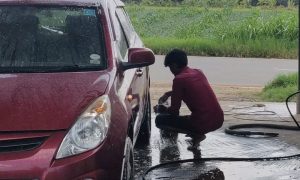 This problem is not only persistent to Kengeri lake, but also Bellandur lake. A fire broke out on the surface of the lake on 16thFebruary, 2017. Dry hyacinth and weed covering the lake caught fire after a garbage dump was set ablaze near the lake. Although, this being the main reason, the chemical run-offs from nearby car washes into the lake aggravated the situation.
Karnataka State Pollution Control Board (KSPCB) had issued guidelines in 2017, advising against liquid car washes. They had advised the car washes to either dry wash cars or install Primary Treatment Plants(PTP) and Effluent Treatment Plants(ETP) to treat the liquid run offs from the centres.
Ms Puneeta  H.S, the assistant manager at Karnataka State Pollution Control Board(KSPCB) says that, KSPCB had advised car washes to either install Effluent Treatment Plant(ETP) or install tanks to store the liquid run-offs from washes and then sent it to Common Effluent Treatment Plants(CETP). CETPs are plants which treat waste water before dumping it in water bodies. "Only after complaint of a particular car wash, does KSPCB send a notice of closure to the plant", says Ms Puneeta.
Small time car washes cannot afford expensive treatment plants, and, consequentially fail to care about the quality of the nearby lakes. On top of that customers are generally not happy with just dry washing of their cars.
Vinay, the owner of a franchise of car washes says, "Dry washes at our centres use three to five  litres of water per wash, which is much less than the usual water washes. The only problem is that an underbody wash without water is not easy, and customers generally tend to not choose it." Mr Vinay's car wash centres have been using dry washes till date, but plan on installing treatment plants and shift to water washes again.
But according to Suresh Heblikar, an environmentalist at Eco Watch NGO, this problem is going to persist as long as this guideline is not turned into a law. Small time car washes are going to continue ignoring this advice as long as there's no proper implementation of these guidelines by legal bodies. Hence strict implementation is a problem. Only after external complaints does KSPCB issue a notice of closure to a rogue car wash. After which police force goes to shut it down. But due to lack of awareness and existence of too many small time car washes, not a lot of complaints are received by KSPCB.
Although local government bodies and environmentalists plan on cracking down on such car washes near lakes, the problems of poor car wash owners are legitimate and continue to persist.