India is witnessing an increase in the number of people flying to countries like Canada, Australia, and the U.K. for opportunities.
The number of Indians flying to other countries for education, job opportunities, or for permanent citizenship has been rising in recent years. According to the data by Australian Home Affairs, between July 2017 to June 2018, 17,756 Indians acquired citizenship in Australia.
[media-credit id=39 align="aligncenter" width="646″]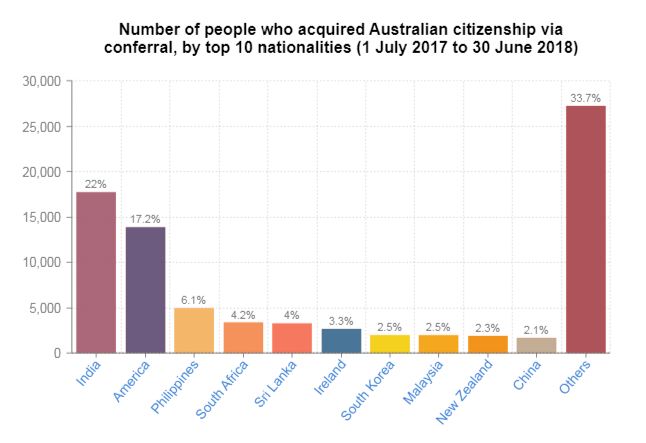 [/media-credit]
Prajakta Junagade, 21, who lives in Melbourne and is doing her Master in Advertising from the Melbourne University, said, "I think that the standard of living is higher in some other countries compared to India. There is more practical knowledge than just theoretical knowledge given there."
A lot of Indians say that the standard of living in the country is low and that is the main reason for them to migrate to other countries. The visa companies in Bangalore state that most numbers of people choose Australia, Canada, or Georgia (former Russia) for further studies.
Salman, the senior process consultant at Kansas Overseas, a visa agency, said, "In the past two years, more than 15,000people have opted to go to Canada and Australia, and these are the people that have applied for visas through our company.  A lot of people go for job opportunities and end up settling there." The migrants that return to India for settlement has decreased. According to the report given by the World Data Atlas, from 2010 to 2015, the net migration rate of the country has declined by 17.31 percent.
"I think more than the standard of living, I am working in Singapore so that I can make more money that I was making in India, and send it to my family", said, Atish Pawar, who works as a chef in a five-star restaurant in Singapore.
Dr Vaijayanti Dixit, a business economics professor at Mumbai University, explained, "I am working here for the last 10 years, and I have seen a lot of foreigners that come to study in India. I agree that the standard of living in the country is low, but it also has a lot of other things to offer like, quality education."
When the Softcopy newspaper spoke to some students who have come to India for higher education, Aishwarya Shetty, studying at Symbiosis College, and who is from Dubai mentioned, "From the place where I have come from, I believe that the quality of education in India is better than in Dubai. The field that I am interested in has more scope here than there."
Shri Labhu Ram, Foreign regional registration officer, said,  "Particularly from Bangalore, a lot of people have gone abroad for education and job opportunities, but a lot of people have also come to Bangalore for work, so the migration is balanced."