The US to be defeated by Asian countries to be the world's largest economy, says reports
The United States are the current global leaders; they have one of the best education system, infrastructure, military, and economy. This picture could soon change. According to reports published by the Centre for Economics and Business Research (CEBR), Asian countries like China, Japan, India, and Korea will have equivalent or possibly a better economy than the US.
By the year 2033, China will be the world's largest economy followed by the US and India. A total of 193 countries have been analysed under this report.
The World Economic League Table has foreseen a global economic deficit, and this is likely to affect superpowers like the US and China. The trade war between the countries will bring massive change in monetary policies between the countries. "Despite global uncertainty and tightening in US monetary policy, which has pushed down some of the emerging market currencies, the 21st century is still likely to be the Asian century," said Douglas McWilliams, CEBR deputy chairman and founder. The struggle the emerging markets have faced has brought an annual deficit in the economy by two-three percent across Europe and other countries.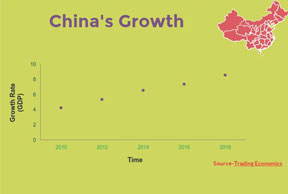 The US is set to face defeat in terms of its economic status due to numerous reasons. Some of these include the trade wars with countries like China, Russia and the Philippines, the wide spectra of projects in the Chinese Belt and Road initiative which will affect world Gross Domestic Product (GDP)
Eradicating infrastructure backlog from developing countries, a new technology which will help construct better enterprises and investments. While the report estimates the US economy to be hit by a recession, other developing countries like India and Japan will benefit from this situation.
Asian countries will see eminent growth in the next 15 years. Sheikh Hasina, PM of Bangladesh, announced the fiscal growth in her country and supported the report and analysis done by CEBR.
She said in a tweet, "Bangladesh's economy has been ranked 41st among the largest economies in the world in 2019. We have stepped up from the 43 last year."
The report has included some major changes in the economy which are affected by oil prices, commodities, trade and technology.