Unhappy marriages, domestic violence are recorded as reasons for the suicide of homemakers in most cases.
Sakshi Iyer still remembers the day when she heard of her sister's death. Her sister is one of many homemakers in Karnataka who decided to end their life due to marital problems. She said with teary eyes, "I watched my sister go through all the ups and downs in her marriage.. It was the day she wanted to give up on herself, when I realized that it was bad. Insecurities and restrictions had affected her mental and physical well-being."
Karnataka ranks fifth in the country with a total of 1855 cases of homemaker suicide in 2020 as per the National Crime Records Bureau (NCRB).
Sumitra Shridhar, a psychologist said, "The most important thing is whether the woman is a homemaker by choice or is it because her partner or in-laws wanted her to be. The woman who has been a working professional is forced to be a homemaker after the marriage, this sudden change makes her feel alone, worthless, and hence they decide to end their life." However, she also mentions that this is not the only reason for homemakers to end their life as there are several factors contributing to this.
Also if her partner is not supportive and does not help her in adjusting to her new life, in accommodating in her new family, she feels overwhelmed and lonely which leads to depression," added Sumitra.
Janhvi, a software engineer, also narrated a similar incident of her neighbor. "She was my neighbor and a very good friend; she was just 21 when she got married. The marriage was a disaster, the guy used to beat her up almost every time he drank alcohol. We could literally hear them in our house. She was with him for about three years and finally took the step of leaving him," she said.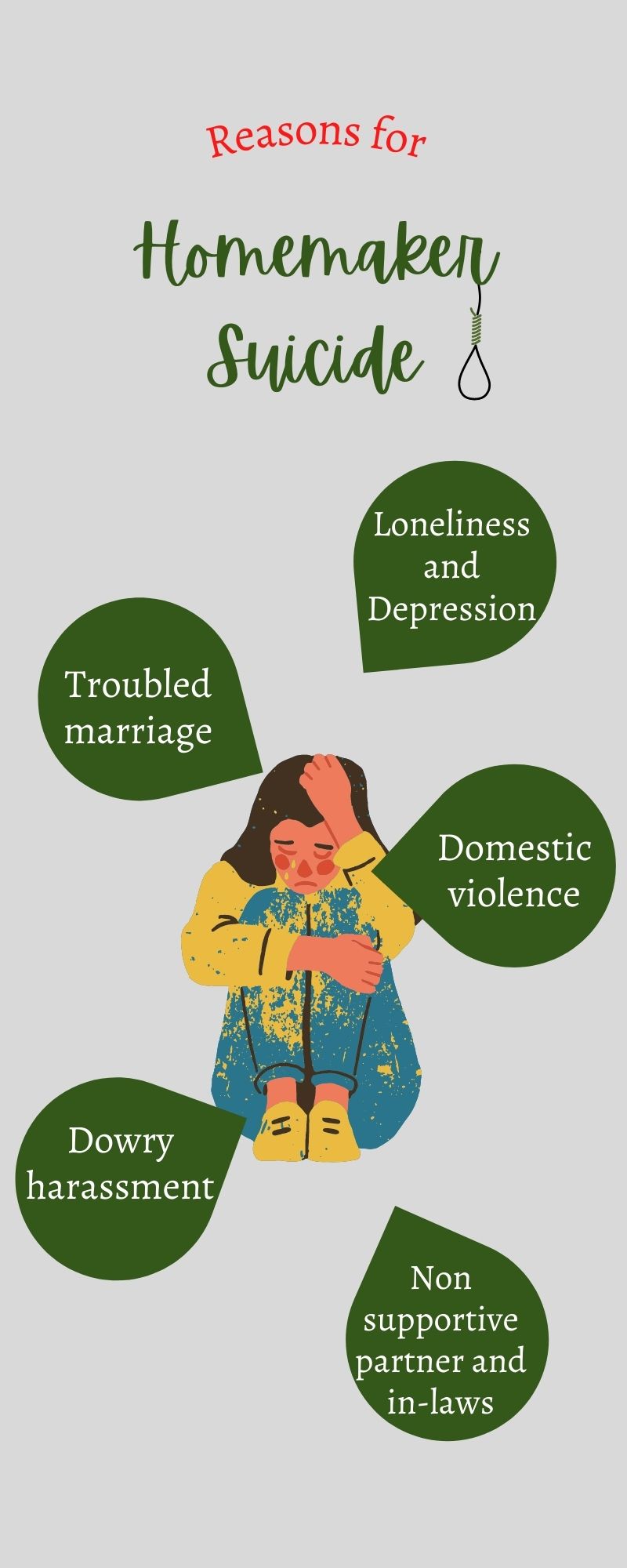 Police sub-inspector, Meenakshi, at Banashakari women police station said that they deal with all marriage-related issues except financial issues. There is at least one FIR registered everyday and around 25-30 on an average in a month. The most common cause for housewife suicide is extramarital affairs along with dowry harassment and domestic violence. "Women start contemplating suicide when they face ill-treatment by in-laws and dowry harassment."
"There is constant pressure on women and especially homemakers to have a perfect family and happy marriage. There is lots of stigma around women choosing for themselves in our society. Indian women are made to be tolerant, they are always supposed to compromise, sacrifice her happiness and her unhappiness is hardly taken into consideration. So if a homemaker decides that she will leave her partner's house, get separated or divorced, it is considered as a bad decision and so instead of harming her and her parents' reputation she decides to end her life," Shruti Desai, a trauma counsellor said.
"To reduce the cases it is necessary to remove the stigma around mental health, and women deciding on her marriage," said Sumitra.
Desai said that during the pandemic, homemakers' burden increased. As the work load at home increased, they couldn't make time for themselves, which led to the increase in cases of depression among women.
The central government in the Union budget 2022-23 proposed a new scheme that will help improve mental health problems caused due to the pandemic. The National Tele-Mental Health Programme will provide free counseling on the phone.