Relief funds under AKSH scheme for domestic workers have not been released yet.
Over 94 percent of domestic workers who had applied for the Ambedkar Karmika Sahaya Hastha Scheme (AKSHS) have not received any relief money. It has been almost two months since applications to the scheme closed.
"I had applied for the scheme, but I didn't get the funds," said Gayatri (36), domestic helper from Puttenahalli. She also said that many people she knows, who had applied, have not received anything yet.
Sugnama, a domestic helper who had applied with the help of her employer said, "I applied for it and my application was approved as well, but I haven't got the money."
Ms. Geeta Menon, representative of Domestic Workers Rights Union (DWRU) said that about 200 workers from the Union had applied for the scheme. They also received a message of approval for the application. However, none of them have received the fund yet.
Mr. G.S. Bhat, an official at the Karnataka State Unorganized Workers Social Security Board (KSUWSSB) said, "The funds haven't been released due to the shortage of money with the Board, however the government would soon be providing KSUWSSB with the pending amount." He added, "Since there is no official data on the total number of unorganized workers in the State, I can't say if the outreach has been good." He said that only 24,633 applicants have received the relief amount.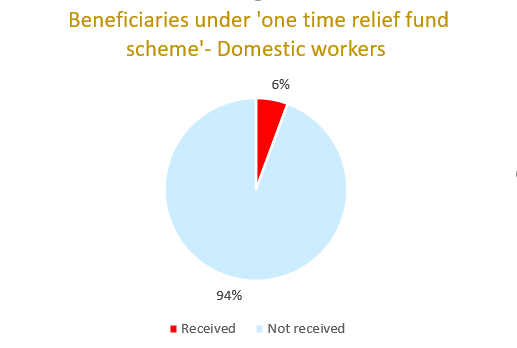 Reap Benefit, a non-governmental organization (NGO), which has been working with the domestic helpers around the city also found that the application process was challenging. They said that the documents required by the government to authorize the funds were an Aadhar card – connected with a phone number, a Below Poverty Line (BPL) card connected to the Aadhar card, an employment certificate signed by a gazetted officer, etc.
A survey conducted in 2020 by the Domestic Workers Rights Union (DWRU), Bruhat Bangalore Gruhakarmika Sangha (BBGS) and Manegelasa Kaarmikara Union (MKU) showed that about 87 percent of workers surveyed were asked not to come to work since March, 2020. All participants above the age of 50 lost their jobs during the same time. In April, 91 percent of workers lost their incomes.
Karnataka Government on May 20, 2021 had launched the AKSHS during the second wave of covid-19. ), Under the scheme, 11 categories of unorganized workers, including domestic workers were assured a sum of Rs. 2000 as a one-time relief.
The workers were to apply for the scheme through the Seva Sindhu portal. Registrations were open on June 5, 2021 and closed on July 31. Data shows that 14,52,943 unorganized workers had applied for the scheme, of which 4,36,424 were domestic workers.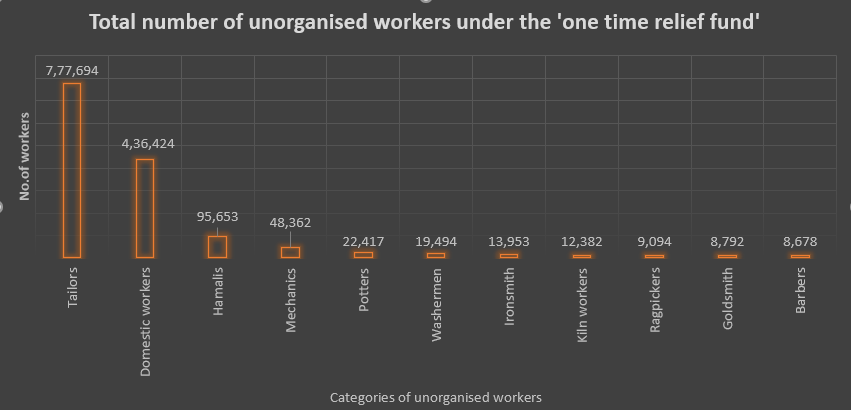 Ms. Geeta Menon remarked that the intention of such schemes is not actually to provide relief but is a diversion.
"How does the government drop a scheme without looking into the financial aspects of it?" she asked.