If you have to ported your mobile number because of slow internet speed or network issues, then you are among the 42 million people to have done so in the last nine years.
Vivek Kumar M
Karnataka, among all other Indian states and Union Territories, leads in terms of Mobile Number Portability (MNP) requests. Telecom Regulatory Authority of India (Trai) report states that over 42 million requests were received in Karnataka over the last nine years.
MNP service began in India in 2011. Till December 2019, around 461 million porting requests were received. Karnataka accounted for nearly 10 per cent of all these MNP requests.
The Trai report says, "In MNP Zone-II (Southern and Eastern India), the highest number of requests till date have been received in Karnataka (about 42.26 million) followed by Andhra Pradesh (about 38.90 million)."
In Zone-I (Northern and Western India), Rajasthan had the highest number of requests, i.e. over 36 million. Last year in the month of October alone, 4.08 million MNP requests were received in India.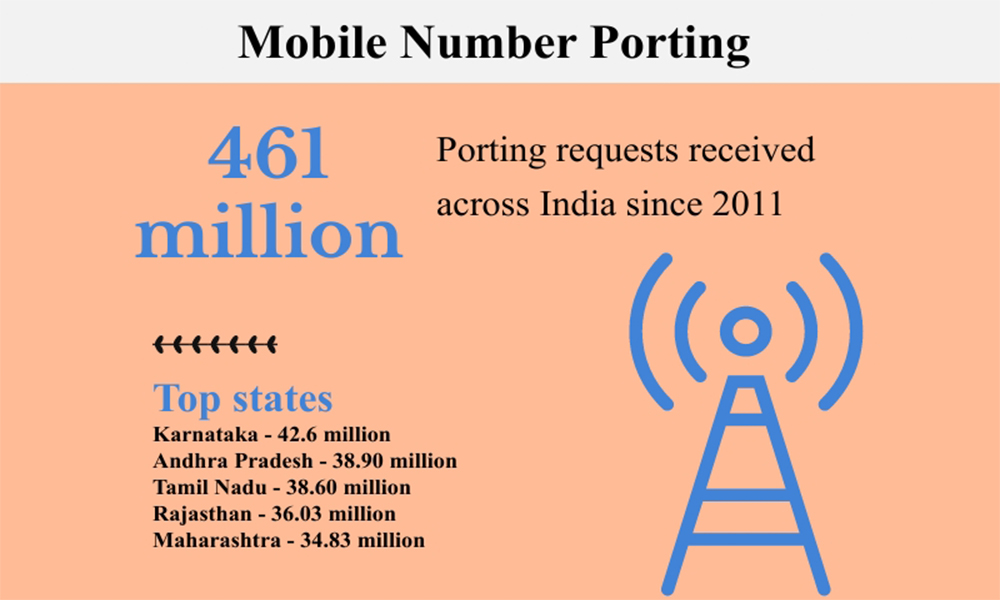 One of the users in Bengaluru, Harshit Kumar N, said, "I have shifted from one network provider to another several times. Most of the times, it would be because other network providers might be offering better plans. I am not a loyal customer to any network. I will just port when the offers are good on other network providers."
Another user, Divya K R, who hails from Davanagere, said, "With my previous network, I had to recharge a certain amount every month even for incoming calls. That was the reason I shifted to another network provider."
Having incurred losses due to intense competition after Reliance Jio's predatory pricing, Vodafone-Idea and Bharti Airtel came up with mandatory minimum monthly recharge for its prepaid users.
Recently, Trai made porting services simpler and easier. Earlier porting took around 10 to 15 working days. With simpler rules, now it will take less than five working days.
Anshul Pandita, a telecommunications engineer, said, "The market becomes immensely competitive because of easy portability since the user can easily just port to the service provider who offers the cheapest and best services."
Some users of Aircel and other service providers had to port as several telecom companies had shut down their services due to high competition in the telecom industry.
In a mail query, Vodafone-Idea told The SoftCopy, "Karnataka is one of the biggest telecom circles in the country and hence, it is only fair to assume a large share of MNP requests from the circle."
Recently after the Supreme Court's ruling on Adjusted Gross Revenue (AGR), Vodafone CEO Nick Read allegedly said that Vodafone-Idea may have to shut shop in India if government does not come to the rescue of telcos. In worst case scenario, if the joint venture, which has the highest market share in India, stops its business, millions of its subscribers will be forced to port to other service providers.
Another report by Trai showed that Bharti Airtel and Vodafone Idea lost around 3.2 lakh and 1.7 lakh subscribers respectively in Karnataka between June 2019 to September 2019. During the same period Reliance Jio and BSNL gained subscribers in the state. While Jio gained13.48 lakh subscribers, government-owned-BSNL gained around 1 lakh subscribers as per another.
Sudeep Bhalla from Vodafone Idea, said, "We are constantly improving the network experience for our customers. After integration between Vodafone and Idea in the last quarter in Karnataka, we launched turbonet 4G in the circle."