More than 60 per cent pourakarmika jobs under BBMP are vacant. Pourakarmikas complain of overwork, while some demand permanent jobs.
Vivek Kumar M
Most sanctioned jobs under Bruhat Bengaluru Mahanagara Palike (BBMP) are vacant. A BBMP circular states that most of the vacancies lie in Group-C and Group-D posts. Pourakarmika jobs, which come under Group-D, have  vacancy of a whopping 60 per cent.
Pourakarmikas in some wards complain about fewer workers in the area which forces them to work extra. Sumati, who is a pourakarmika working in Kasturinagar ward, says that they clean extra roads and collect garbage from more number of houses every day.
She says, "We have to adjust. There is no other choice for us. Every day we clean an extra road and collect garbage from extra houses than we used to."
Of the total 8000 sanctioned jobs, only 2680 are filled. BBMP had posted online recruitment for 4000 pourakarmika jobs in August 2019. But later, it was withdrawn citing technical problems.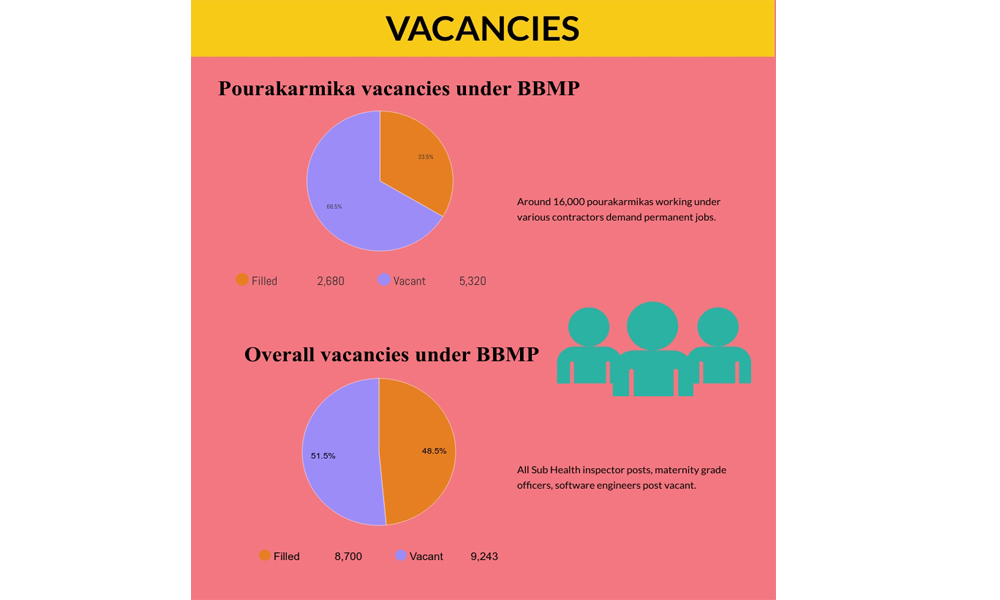 Lingamurthy G, Deputy Commissioner of Administration for BBMP, said, "There are around 5000 vacancies in pourakarmika posts under BBMP. But there are around 16,000 pourakarmikas who are working on a temporary basis across the city. However, they have been demanding to be made permanent workers. The department concerned has already sent a proposal regarding this to the government."
Balan, President of BBMP Guttige Pourakarmikara Sangha alleged that it is the same story every time. He said, "Even though the government asks its finance ministry to look into it, yet the demands don't get fulfilled due to the cost of making these pourakarmikas permanent."
He further said, "When a permanent worker and temporary worker are doing the same job, they must treat them equally."
Bengaluru city produces around 5000 tonnes of garbage every day. The garbage generated in the city has doubled compared to 2015 when every day around 2500-3000 tonnes was produced.
Sarfaraz Khan, Joint Commissioner of Solid Waste Management, BBMP, said, "Contract-based working was abolished two years ago. So, all the pourakarmikas come under BBMP. We have sent a proposal to the government to make them permanent. It is for the government to decide that."
Apart from vacancies in pourakarmika jobs, there are vacancies in other posts under BBMP as well. Out of the total 17,943 sanctioned jobs under BBMP, only 8700 are filled. This leaves behind more than half of the posts vacant.
Lingamurthy said, "We have only Cadre and Recruitment rules of 1971 (C&R Rules, 1971) through which hiring can be done. It is too old. For some important posts, qualification under these rules is just metric pass and PUC. We have made amendments to it and are waiting for approval from the state government."
All the recruitments by BBMP are done under C&R rules, 1971. Direct recruitment, promotions, and transfers are some ways of recruitment.
All the 19  pediatrician posts, 10 Sub Health inspector posts, 30 Maternity grade officers post, as well as  many others are vacant. BBMP deputy commissioner for administration assured that the recruitment would begin soon after the state government's nod on amended C&R Rules.