NWKRTC fails to replace BS-III compliant buses in Northern Karnataka, passengers travel in poorly maintained buses.
By Shivani Verma
The North Western Karnataka Road Transport Corporation (NWKRTC) buses which run in Muddebihal Taluk, Bijapur district are Bharat Stage III (BS-III) compliant which cause more pollution and are in bad condition.
"We have to travel everyday on these old buses which cause a lot of pollution. The development is only on paper, our Taluk is lacking behind in many things, including infrastructure and quality transportation," said Tulsi Rathod, a passenger of the NWKRTC bus.
NWKRTC jurisdiction covers 6 revenue districts, 44 talukas, and 4596 villages and serves4428 (96.3%) villages with transport facility. NWKRTC covers 15.5 lakh km and carries22 lakh commuters per day.
"The condition of buses is deteriorating. I have no other option but to travel in these buses to go to school daily, as my home is far from school," said Laxmi Myageri, a student of Adarsh Vidayala. The apex court on April 1, 2017, banned the sale and registration of BS-III category vehicles or those not compliant with Bharat Stage IV (BS-IV) emission norms. The step was taken due to poor quality emissions from BS-III vehicles causing air pollution.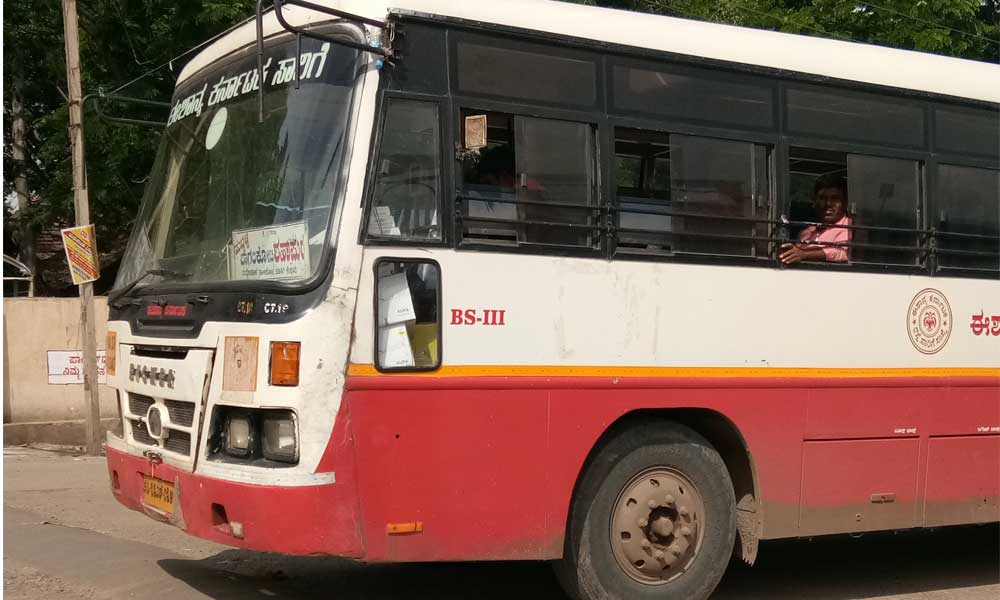 Muthanna, an NWKRTC official said, "We are running BS-III buses because the life cycle of those buses are not over yet."
NWKRTC is a small transport corporation which is guided and run along with the help of parent organization KSRTC to cater to the needs of the growing population. It operates 4716 buses running across 4440 schedules.
Srinivas Alavilli, Co-Founder of 'Citizens For Bengaluru' said, "Every bus has a life cycle. If the agency is running buses beyond the expiry date, it is a problem. If not, it is a matter of operational execution. It is an issue of improper enforcement. If BSIII vehicles are not supposed to run on the streets then proper enforcement is required. I think it makes no sense to complain when there is no respect from regulatory authorities to uphold the law of the land."