With road for vehicles and footpaths for business, pedestrians at Outer Ring Road (ORR) at Banashankari have no place to walk.
By Pradnya Desai
Resellers of wooden demolition articles stretch about a kilometre of the Outer Ring Road in Banashankari near the Temple Ward leaving minimal space for pedestrians.
The busy road causes difficulty for people to cross the road and the pedestrians don't find a safe place to rest and walk as the sellers border the road. Mumtaj, a resident of Kumaraswamy Layout said, "It is a risk to walk on the roads but I prefer that, over walking on the footpaths. There is no place left for walking."Only the four-metre stretch outside the Geological Survey of India is free of hawkers. A pile of pipes is seen on the footpath right outside National Institute of Rock Mechanics on the same road.Recently the Karnataka High Court had asked BBMP to give publicity for citizens' right to compensation in case of damages faced due to poor shape of roads or footpaths.
Other than the wood resellers, a slew of other street vendors occupy the footpath of the ORR in Kumaraswamy Layout, Banashankari.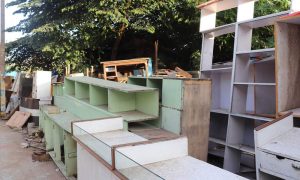 "We pay BBMP Rs. 500 when they visit and sometimes they even visit twice a month," said an artefacts vendor.
The Street Vendor (Protection of Livelihood and Regulation of Street Vending) Act of 2014 specifies rights of vendors from eviction, adhering to right to livelihood stipulated in the Indian Constitution. However, the 2014 guidelines issued by Directorate of Urban Land Transport Government of Karnataka prescribe 2.5 metre wide pedestrian walks for 25-ft road.
Dr. B. Mahendra, a penalist from Institute of Town Planning, Karnataka said, "The vendors can't be robbed of their livelihood, hence can't be evacuated until an alternative place is allotted to them. On busy roads like the ORR the vendors can be asked to keep off the footpaths during the peak hours".
Temple Ward, ORR is also a known black spot for garbage disposal. The garbage that earlier piled up on the footpath, now heaps on the side of the road.
Rafi, a demolition articles reseller said, "BBMP is being lenient with us as wood reselling on the footpath keeps the garbage off the footpath."
BBMP Health Inspector Jaya Hari said , "The street is encroached by the wood resellers and action will be taken only if demanded."
Street Vendors Act, 2014 states that the vendors can be evicted only after issuing of ID cards and vending zones for the vendors.