More and more restaurants in Bangalore are jumping on the bandwagon by creating food art to attract customers.
By Manasi Pawar
Bengaluru, March 12, 2019.
With food art becoming increasingly popular, not only high-tech places but also small restaurants have started taking food art seriously to promote their food and their business on social media.
Mahesh Bhopat, 32 years old, works as a chef in The Grill House, in the city. He said, "A lot has changed since I started working here. Now we have to decorate the food in such a manner that it looks appealing to the customers." It's been more than 10 years since the restaurant opened.
A lot of other restaurants have creative specially-abled people hired to do the decoration of the food.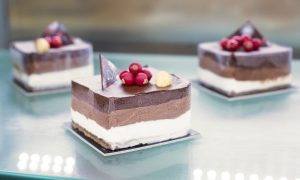 On the other hand, molecular gastronomy is a new field in Bangalore, where food and science come together in an artistic way to create innovative food.
Restaurants in the IT hub have hired molecular gastronomy specialists to give a creative touch to their food. The Palette restaurant in Whitefield is one such restaurant. It is known for delivering gastronomic delights to the customers. The chef there is Kanishka Kamat; he has been in the industry for the last 12 years.
Karthika, one of the public relations workers in that restaurant said, "We try to promote the food that is made in our restaurant. When people see pictures of mouthwatering food on social media or on our website, they want to visit the restaurant."
"The customers love the way food is presented; they post pictures on social media, and they indirectly promote us."
The customers have a different story to tell.
There are more than 60,000 restaurants in Bangalore and most of them are listed on applications like Zomato, Food Panda, etc. They use these apps as a form of promotion for their restaurants by mostly posting photos of the kind of food they serve. Thomas Mathew reviews food on Zomato and says "Nowadays, the presentation of the food matters, even if it is a salad."
Shantanu, a 21-year-old, is studying hotel management in Mumbai and is planning to specialize in molecular gastronomy. He said, "I have always been interested in imbibing creativity in food, and since there is an increasing demand in the field of molecular gastronomy, I would love to be a part of that."