After yesterday's protest, the farmers meet the Chief Minister (CM).
Farmers today from various districts of Karnataka spoke to CM HD Kumaraswamy, to find a solution for the ongoing sugarcane problem. More than 100 farmers had come from various districts. The meeting was held at Vidhana Soudha. Kumaraswamy has told the farmers that he will talk to the sugar factory owners and find a solution for this.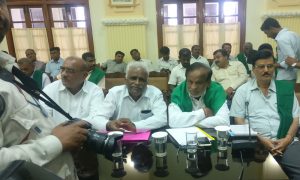 Associations also came to the meeting, stated that they are going to put forth the issue of sugarcane factories not paying the farmers. He said, "Only 50 percent of the farmers have been paid, the rest of them have not been paid. The only factory that paid is the Krishna sugar factory; all the others have not." More than 30 farmers had accompanied him from Belgaum. They estimate the amount left to be paid by the sugar factories to be around Rs. 53 crores.
The farmers also complained that the amount paid by these factories has differences from the Fixed Retail Price.
The farmers were getting Rs. 2,300 – Rs. 2,500 on an average for the past three years, but they have not been this year. They are demanding Rs. 2,900 as a price to be paid for their sugarcane.